Colorado Rockies: How the Cactus League location could impact the 2020 regular season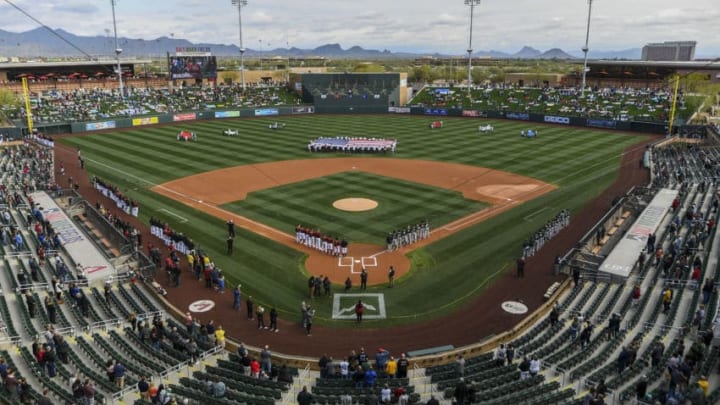 SCOTTSDALE, ARIZONA - FEBRUARY 23: An overhead view of the Oakland Athletics and Arizona Diamondbacks as they stand for the national anthem prior to the spring training game at Salt River Fields at Talking Stick on February 23, 2020 in Scottsdale, Arizona. (Photo by Jennifer Stewart/Getty Images) /
USA Today's Bob Nightengale reported on Friday that Major League Baseball is looking at possibly realigning the regular season divisions by the proximity of their spring training opponents, which would create an interesting division for the Colorado Rockies.
Bob Nightengale of USA Today reported on Friday that Major League Baseball is considering a radical realignment of teams based on spring training location. For the Colorado Rockies, they would be in the Cactus League's Northeast division due to their spring training facility being in Scottsdale, which is on the northeast side of Phoenix.
This would possibly happen so travel could be more limited and minimize the risks for players as a result of the coronavirus.
Since there are 15 teams in both the Cactus and Grapefruit Leagues, each division would have five teams. For the Rockies, they would be in a division with two of their NL West foes, the San Francisco Giants and Arizona Diamondbacks but they'd also be in the division with the Chicago Cubs and the American League's Oakland A's.
Here's the way that the Cactus and Grapefruit Leagues' divisions may look like, according to Nightengale:
GRAPEFRUIT LEAGUE
NORTH: New York Yankees, Philadelphia Phillies, Toronto Blue Jays, Detroit Tigers, Pittsburgh Pirates.
SOUTH: Boston Red Sox, Minnesota Twins, Atlanta Braves, Tampa Bay Rays, Baltimore Orioles.
EAST: Washington Nationals, Houston Astros, New York Mets, St. Louis Cardinals, Miami Marlins.
CACTUS LEAGUE
NORTHEAST: Chicago Cubs, San Francisco Giants, Arizona Diamondbacks, Colorado Rockies, Oakland Athletics.
WEST: Los Angeles Dodgers, Chicago White Sox, Cincinnati Reds, Cleveland Indians, Los Angeles Angels.
NORTHWEST: Milwaukee Brewers, San Diego Padres, Seattle Mariners, Texas Rangers, Kansas City Royals.
With this plan, Nightengale reports that 26 stadiums would be available, including the three MLB stadiums in the two states (Miami, Tampa, and Arizona).
More from Rox Pile
He also reports that each team could play 12 games apiece against their new divisional opponents and six games apiece against the other teams in the state. With 15 teams in each league and 15 being an odd number, there would have to be at least one doubleheader per day played. Games in Florida could also start as early as 11 AM ET, which is something that some minor league teams do, particularly on getaway days.
Nightengale also reports that the DH would "likely" be universally implemented as well.
For the postseason, there are three possible scenarios. One would essentially keep the current scenario: three division winners and two wild-card winners in each league. The second would add two more wild-card teams to each league. The third would be a postseason tournament with all 30 teams in it.
With a 30 team tournament, the team with the top record in each league would get a bye and then it would be #2 vs. #15, #3 vs. #14, #4 vs. #13, #5 vs. #12, #6 vs. #11, #7 vs. #10, and #8 vs. #9. The #1 team would face the winner of #8 and #9 in the second round.
The winner of each league would face off in the World Series in the three domed stadiums in Florida or Arizona in late November.
Nothing is set in stone yet as this is just an exploration thus far but it would be interesting to see what, if any, of this ends up happening for MLB.