PECOTA projections don't look great for the Colorado Rockies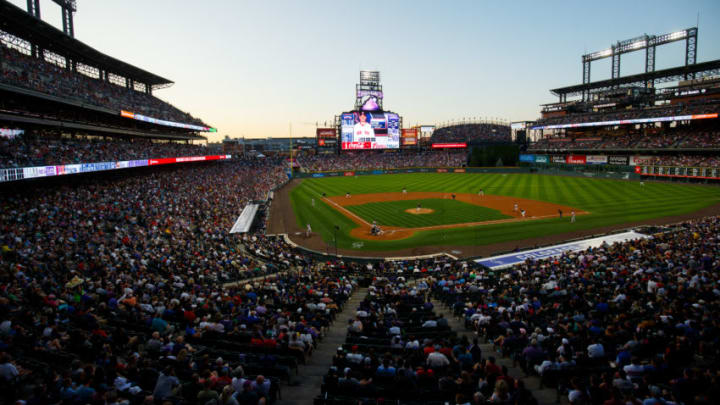 DENVER, CO - AUGUST 27: A general view of the stadium as the Boston Red Sox face the Colorado Rockies at Coors Field on August 27, 2019 in Denver, Colorado. (Photo by Justin Edmonds/Getty Images) /
Heading into 2020, Baseball Prospectus' PECOTA system does not like the Colorado Rockies…or the NL West in general.
There's been a lot of player changes for most teams this offseason so it's always interesting to look at how computer simulations would look at the 30 MLB teams as they currently constructed heading into the upcoming season.
One of those simulations is done by Baseball Prospectus with their PECOTA system, which stand for Player Empirical Comparison and Optimization Test Algorithm.
Heading into 2019, the system projected the Colorado Rockies to be a 85-77 team, which would have been good enough for second place in the NL West but just outside of the playoff picture. Considering how the team did not live up to those expectations due to regression and injuries plus with the fact that the Rockies have not made any additions this offseason, you can guess that the projections do not have them playing that well.
More from Rox Pile
They project the Rockies, as currently constructed heading into 2020, to be a fourth place team in the National League West with a 77-85 record. As bad as the "fourth place team" sounds, it's not as bad as you may think. They have the San Diego Padres and Arizona Diamondbacks finishing in a dead heat with the Padres with a slight advantage over the D'Backs…but both teams only are projected to have 79 wins.
The Dodgers are the clear favorite in both the division, the National League, and all of baseball as they are projected to have 103 wins. No other team in the NL is projected to have more than 88 and no other team is projected to have more than 99 (Yankees).
Here's how the NL playoffs would look like if the projections reigned to be true:
NL East Winner: New York Mets (88-74)
NL Central Winner: Cincinnati Reds (86-76)
NL West Winner: Los Angeles Dodgers (103-59)
1st NL Wild Card Winner: Washington Nationals (87-75)
2nd NL Wild Card Winner: Chicago Cubs (85-77)
In other words, they project the National League, even with many teams having a lot of changes, to be a huge cluster, which is exactly how 2019 when nine of the NL teams finished the season at .500 or above. The projections have six teams finishing above .500 but another six teams falling within the 77-80 win territory.
It's not a great outlook for the Rockies but the projections show that with just a few more wins, they could be contenders in 2020.