Colorado Rockies: Everything to know for Opening Day at Coors Field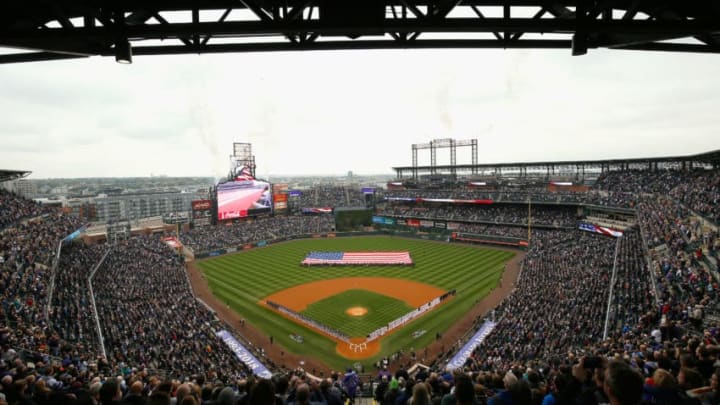 DENVER, CO - OCTOBER 07: A general view of Coors Field before the start of Game Three of the National League Division Series between the Milwaukee Brewers and the Colorado Rockies on October 7, 2018 in Denver, Colorado. (Photo by Justin Edmonds/Getty Images) /
The 2019 Colorado Rockies home opener is nearly upon us and we have everything that you need to know for Opening Day for Coors Field.
Coors Field is sold out for Opening Day, as it has been for each and every home opener in the franchise's home openers. This year, the Colorado Rockies will be taking on their most vaunted NL West rival, the Los Angeles Dodgers with first pitch at 2:10 PM MT.
However, if you are one of the people who will be there at Coors Field, you will want to be there long before then. The largest crowds will be between 30 minutes prior to first pitch and 30 minutes after first pitch.
Per the Rockies PR team, Opening Day festivities will start promptly at 1:20 PM MT so if you want to see the festivities, you will want to arrive to Coors Field at least an hour prior to first pitch. Upon entering Coors Field, fans will receive a GO ROCKIES! Rally Towel courtesy of Arrow Electronics.
For tomorrow, Coors Field parking lots open five hours prior to first pitch at 9 AM MT and all entrances to Coors Field will open at noon. There will also be an additional entry point to Coors Field on 20th Street between Gates D and E which also opens at noon. With the new entry point, there will be seven possible ways to get in to Coors Field.
The annual Opening Day Fest on Blake and 21st Streets will be start at 11 AM and go until 1 PM. They will have various fun activities for adults and children.
The Rooftop opens at noon where fans can enjoy music and pregame drink specials until first pitch at 2:10 p.m.
There will be fireworks presentations during the national anthem, when the Rockies take the field, and during the 7th-inning stretch.
Here's a full timeline of events for tomorrow's festivities:
More from Rox Pile
Opening Day Event Timeline
9 a.m. – Coors Field parking lots open
11 a.m. – Opening Day Fest begins at Blake and 21st Streets
11:15 a.m. – Rockies Batting Practice
12 p.m. – All gates open
12:20 p.m. – Dodgers Batting Practice
1 p.m. – Opening Day Fest ends
1:20 p.m. – Pregame Ceremonies begin
First pitch by Rockies Season Ticket Holder Rene Wineland
First pitch by Denver Police Officer Steve Gameroz and Corporal Richard Jaramillo
First pitches by Third Class Petty Officer Kristen Esget of the U.S. Coast Guard and Staff Sergeant August O'Neill of the U.S. Air Force on behalf of Arrow ElectronicsMilitary March with Army, Navy, Air Force and Marines, with music by U.S. Air Force Stellar Brass
Introductions of Los Angeles Dodgers and Colorado Rockies
Honor Guard and presentation of 300' x 150' flag
National anthem performed by Stellar Brass with Master Sergeant Julie Bradley
Flyover conducted by the 120th Fighter Squadron out of Buckley Air Force Base
2:06 p.m. – Rockies take the field
2:10 p.m. – Official game time
7th Inning Stretch – Hero of the Game honoree TSgt Russell Clayton Cornell and "God Bless America" performed by Master Sergeant Julie Bradley
Mid-8th inning Break – Flyover pilots recognition
For those people who live in the Denver area but cannot be at the game, the game will be on AT&T SportsNet Rocky Mountain and on radio on KOA 850 AM and the Rockies Radio Network (you can check out the affiliates here). You can also listen to the Rockies in Spanish on KNRV 1150 AM.
If you live outside of Denver, MLB Network will be televising the game on their airwaves at 2 PM MT. Tyler Anderson will be pitching for the Rockies and he will face Kenta Maeda for the Dodgers.