The Great Debate: Colorado Rockies v. Miami Marlins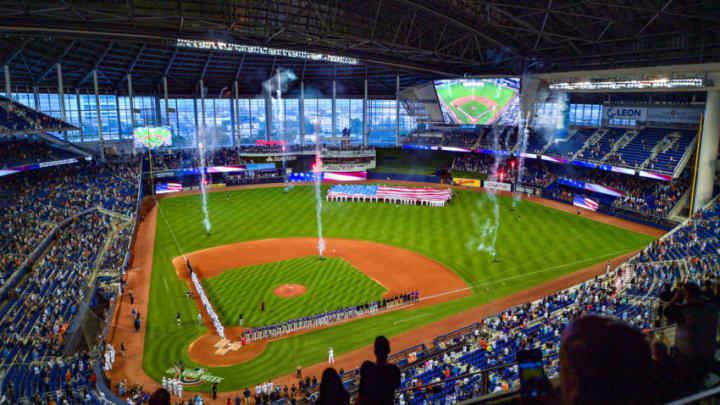 MIAMI, FL - MARCH 28: A general view of Marlins Park during the National Anthem before the game between the Miami Marlins and the Colorado Rockies during Opening Day at Marlins Park on March 28, 2019 in Miami, Florida. (Photo by Mark Brown/Getty Images) /
There were two teams that were created before the 1993 season as a part of Major League Baseball's expansion and this season, they faced each other to start the season so we take a look at the comparisons between the franchises.
The Colorado Rockies and the Miami Marlins concluded their four-game series on Sunday with a split.
The Rockies look to be on a much higher trajectory this season but there is a much larger debate at hand.  With both of these franchises breaking into the league in 1993, these teams will forever be tied in the annuals of history.  So here is the great debate: Which is the better franchise to be a fan of?
There are a lot of variables involved so here is a quick breakdown:
The Facts
Rockies                                     Marlins
Record                                     1964-2191                            1935-2211
Playoff Apperances                      5                                              2
Pennants                                         1                                              2
World Championships                  0                                              2
More from Rox Pile
The Intangibles 
The Rockies play in Coors Field, which is the 3rd oldest ballpark in the National League (only Wrigley Field and Dodger Stadium are older), had over 3 million in attendance in 2018.  Marlins Park was built in 2012 with a little over 800,000 attendees last season, and judging by this past weekend, will struggle to exceed that this year.
Over the years the Rockies have been fortunate to have plenty of fan favorites to wear the purple pinstripes. From Todd Helton to Troy Tulowitzki, Larry Walker, and Nolan Arenado, just to name a few, all have enjoyed multiple great seasons in Colorado.
For Miami, there has been no shortage of star players.  Gary Sheffield, Mike Piazza, Kevin Brown, and Giancarlo Stanton all made names for themselves early in their careers while playing for the Marlins.  The issue is they all left the organization after a couple successful seasons.
Then there is the current clubs' makeup to take into consideration.  Right now, the Rockies are built to contend for the next handful of seasons.  For the Marlins, they are in complete rebuild mode and it is going to be some time before they come close to competing for the playoffs.
The Debate
Here is where it gets tricky.  The Rockies have been to the playoffs five times with only one World Series appearance.  On the other hand, the Marlins have been terrible for most of its franchise's history but in their two playoff appearances, they came away with two World Series rings.
It all boils down to a franchise with some championships but little else or a so-so history with a much brighter future, and a solid fanbase?  So ask yourself Rockies fans, would you trade in what you have for two World Series titles?