What one of MLB's newest changes means for the Colorado Rockies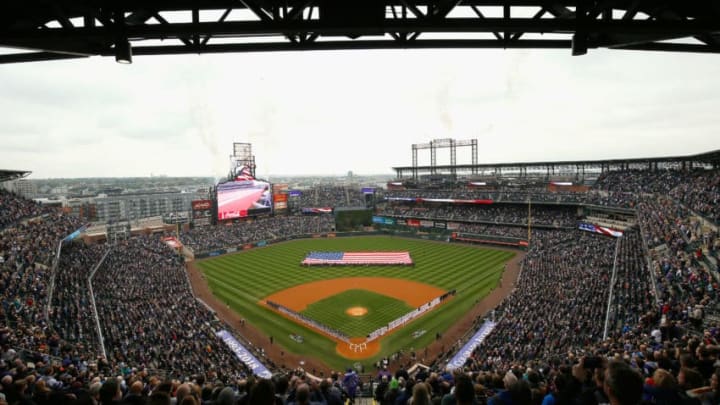 DENVER, CO - OCTOBER 07: A general view of Coors Field before the start of Game Three of the National League Division Series between the Milwaukee Brewers and the Colorado Rockies on October 7, 2018 in Denver, Colorado. (Photo by Justin Edmonds/Getty Images) /
Late last night, Ken Rosenthal of The Athletic and Jeff Passan of ESPN reported that there will be a bevy of changes to Major League Baseball. However, one of those changes will impact the Colorado Rockies in 2019 and it is mainly because of their divisional rival.
Last night, it was reported by Ken Rosenthal of The Athletic (subscription required) and Jeff Passan of ESPN in this article that there will be a lot of changes to Major League Baseball in 2019 and 2020. These changes were agreed upon by Commissioner Rob Manfred and the MLB Player's Association.
Included in the changes a hard trade deadline, in which there will be only one trade deadline on July 31 and no trading in August or September, the expansion of roster sizes from 25 players to 26 (with a maximum of a 13-man pitching staff), a maximum roster in September from 40 players to 28 (with a 14 pitcher maximum), an All-Star Game "Election Day", a three batter minimum for relievers, and a grand prize of $1 million for winning the Home Run Derby (the latter two mentioned by Passan in this tweet).
The hard trade deadline and the All-Star Game "Election Day" are the only rules that will be enacted this season and the roster changes will come in 2020.
The August trade deadline was one that many people found confusing due to the waiver process but that will no longer be a part of the picture…and it is a good thing for the Colorado Rockies.
Since 2012, the Colorado Rockies have only made one August trade. In fact, they made it last season when they traded reliever Jerry Vasto to Kansas City for catcher Drew Butera.
More from Rox Pile
However, for the Rockies, it may be a good thing for them as their rival, the Los Angeles Dodgers, are known for making August trades. Here are some players that the Dodgers have acquired in August via trade since 2012.
In fact, 2011 was the last year that the Dodgers have not made a trade in August and it's for a good reason (they were five games under .500 and 12 games back in the NL West).
In other words, the Dodgers will have to change their M.O. as a result of this changes and, at least of past moves, it will not have much impact on the Rockies.
It should be noted that the Dodgers and Rockies only face each other six times after the hard trade deadline but all six times are at Dodger Stadium. The Dodgers, in fact, will be playing their final game at Coors on July 31 so we could potentially be seeing a series of interesting events that day.