Colorado Rockies: The home run that saved their season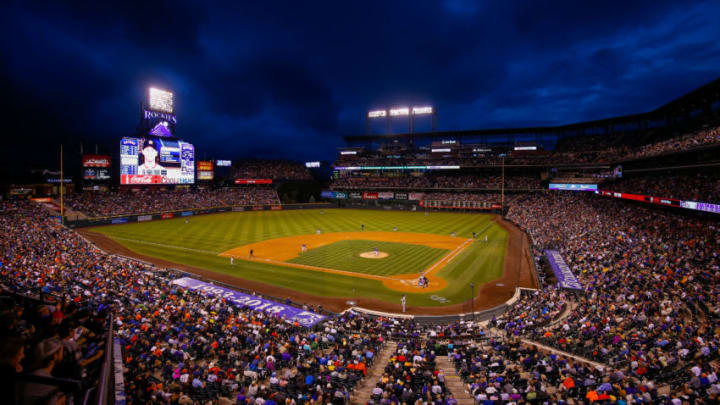 DENVER, CO - JULY 25: A general view of the stadium as the Colorado Rockies take on the Houston Astros during interleague play at Coors Field on July 25, 2018 in Denver, Colorado. The Rockies defeated the Astros 3-2. (Photo by Justin Edmonds/Getty Images) /
DENVER, CO – JULY 25: A general view of the stadium as the Colorado Rockies take on the Houston Astros during interleague play at Coors Field on July 25, 2018 in Denver, Colorado. The Rockies defeated the Astros 3-2. (Photo by Justin Edmonds/Getty Images) /
The Colorado Rockies have had a lot of big home runs in 2018, from Raimel Tapia's go-ahead grand slam off Archie Bradley in Arizona to Nolan Arenado's 11th inning blast in Milwaukee and Ryan McMahon's game-winning homers in consecutive games against the Los Angeles Dodgers.
But as dramatic as these home runs were, none of them had as big of an impact as a much-less celebrated blast from earlier this season … a home run that might have very well saved the Colorado Rockies' season.
On Wednesday, June 27, the Rockies fell 1-0 to the Giants in San Francisco. It was their 17th loss in their last 25 games. Kyle Freeland threw seven scoreless, allowing just four hits, but the Giants' Madison Bumgarner also held the Rockies scoreless through seven.
The bullpens traded scoreless appearances until Brandon Crawford came up in the bottom of the 9th and took a 1-1 pitch from Harrison Musgrave deep for a walk-off home run that kept the Giants in the mix for a division title. It pushed the Rockies to a startling eight games back in the West and continued a trend of late losses at the hands of the bullpen.
The next game made up for Wednesday night's lack of offense. Neither Jon Gray nor Chris Stratton pitched more than four innings, setting up a slugfest that would last until the ninth. DJ LeMahieu put the Rockies up 5-2 with a single in the fourth only to see the Giants tie the game in the bottom of the inning. DJ struck again in the seventh, giving the Rockies a 7-5 lead with a two-RBI single.
More from Rox Pile
The lead didn't last long, however, as the Rockies' bullpen struggles affected even its best arm.  The Giants took an 8-7 lead off Adam Ottavino in the bottom of the eighth in an all-too familiar scene. Arizona had already beat Miami 4-0 and the Rockies were three outs away from falling nine games back before the end of June in what was turning into a very disappointing season.
Even the most optimistic Rockies fans were beginning to lose hope. The season seemed all but lost more than two weeks before the All-Star break due to a string of deflating losses and a pitching staff that posted an MLB-worst 6.20 ERA in June. The Rockies were as close to the last-place Padres after their disappointing 1-0 loss the night before as they were to the third-place Giants and, at the start of the ninth, it appeared they would continue to plummet closer to the cellar of a division they had led at the start of the month.