Colorado Rockies: The bullpen isn't the only issue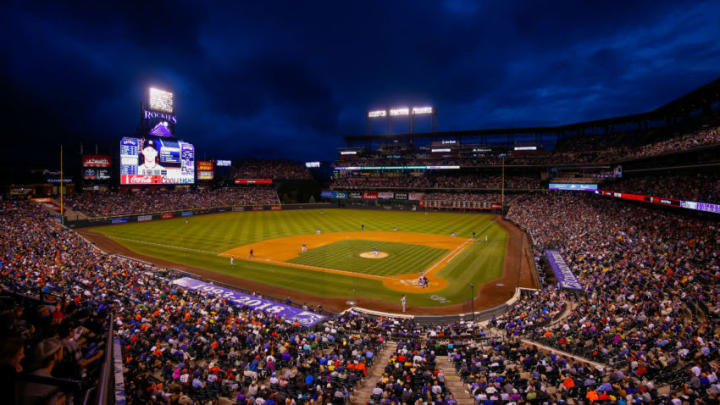 DENVER, CO - JULY 25: A general view of the stadium as the Colorado Rockies take on the Houston Astros during interleague play at Coors Field on July 25, 2018 in Denver, Colorado. The Rockies defeated the Astros 3-2. (Photo by Justin Edmonds/Getty Images) /
Since July 22, the Colorado Rockies are 7-10. They still find themselves in the hunt for a playoff spot and the National League West on the backs of their starting pitching. While everybody who has seen a Rockies game this year knows that their bullpen is not helping matters whatsoever and they need an addition or two (and, arguably, a subtraction or two) in the bullpen, they also must address their faltering offense.
In their last 18 games, the Colorado Rockies are 8-10 and part of the reason why that has been the case is their offense. In that span, the Rockies offense is scoring 3.4 runs per game with a .233/.302/.387 slash line. For comparison, in their 60 games prior to their last 18 (which goes back to May 11), the team went 32-28 and the offense scored 5.6 runs per game with a slash line of .276/.334/.464.
More from Rox Pile
Also in this span, many of the teams that the Rockies may be vying for a playoff spot with have addressed their needs offensively before the non-waiver trade deadline or this month during the waiver trade period. Here's a look at some of those acquistions.
Dodgers: Manny Machado and Brian Dozier
Diamondbacks: Jon Jay and (more so offensively) Eduardo Escobar
Milwaukee: Jonathan Schoop and Mike Moustakas (not to mention acquiring NL MVP candidate Lorenzo Cain, Christian Yelich, and Jesus Aguilar this offseason)
Atlanta: Adam Duvall
Philadelphia: Asdrubal Cabrera, Wilson Ramos (who hasn't played a game yet due to being on the DL), and, today, Justin Bour
And what have the Rockies done to improve their offense? They added Matt Holliday, who is hoping to get a shot at the big league roster.
Granted, DJ LeMahieu has been injured much of the season and when he has played, he has not been himself but the Rockies have still been subpar in many areas. We all know about the catching debacle (including, inexplicably, having three catchers on the roster especially when all three have been subpar) but also Gerardo Parra has sturggled offensively in left field, Ian Desmond at first base, as well as the bench as a whole.
By OPS+ for the entire season, the only contender in the NL (or in baseball period) that has an OPS+ worse than the Rockies is the D'Backs (89 OPS+ compared to 86). However, the Rockies bullpen has an ERA that is more than 2 runs higher than the D'Backs bullpen, which leads the NL and is third in baseball (3.08 ERA compared to 5.22).
So, is the bullpen to blame? Absolutely. After all, they have 24 losses and they had 19 all of last year. However, the offense must be more consistent and, with the current guys the Rockies have, they need some help…so the front office needs to get busy if they want to make the postseason.