Colorado Rockies roundtable: Analysis of the trade deadline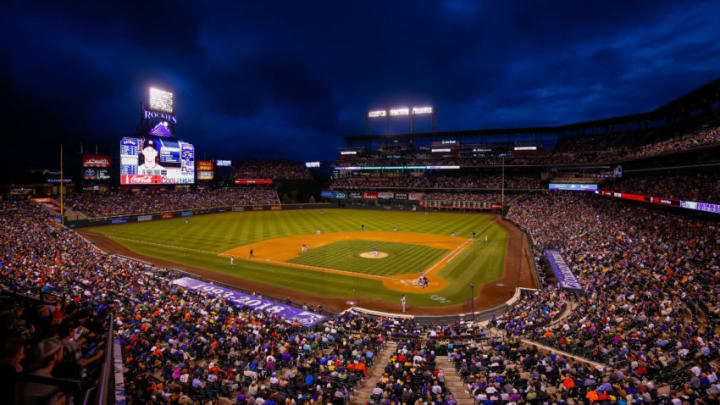 DENVER, CO - JULY 25: A general view of the stadium as the Colorado Rockies take on the Houston Astros during interleague play at Coors Field on July 25, 2018 in Denver, Colorado. The Rockies defeated the Astros 3-2. (Photo by Justin Edmonds/Getty Images) /
PHOENIX, AZ – JULY 22: Catcher Tom Murphy #23 of the Colorado Rockies fields a ground ball out against the Arizona Diamondbacks during the MLB game at Chase Field on July 22, 2018 in Phoenix, Arizona. (Photo by Christian Petersen/Getty Images) /
My analysis
NL Team to Beat
With no team really pulling away with a really good record in the NL, for me, this is difficult. I'd have to go with the Dodgers just because they are in first place in the NL West and they are the reigning NL champs. However, I think that they are very beatable for a few reasons. First off, their bullpen outside of Kenley Jansen is nothing to write home about.
Secondly, while their starting rotation is very good, the only guy that can stay healthy is Alex Wood. The Rockies have four guys with 20 or more starts; Wood is the only Dodger to make more than 18. Third off, their offense has it's issues too, even though it is one of the best in the NL. Brian Dozier, who they just acquired, is having a bad season, Cody Bellinger is hitting under .240, Justin Turner has been injured for much of the season and hasn't been the Justin Turner of old when he has played. Also, even after the Rockies bullpen (more on that in a minute) blew countless leads in the first 2-3 months of the season, they are still only one game out.
In general, the NL is a crapshute and it could be for about 10 teams to take.
Trade Deadline Winner
I could say the Red Sox or Yankees but I will go with the Pittsburgh Pirates. They got Chris Archer from the Rays and probably overpaid for him and they acquired Rangers closer Keone Kela. They are three games back in the NL Wild Card race and, eventually, I still don't think that they will get a wild card spot but they have set themselves up for a good year next year and beyond.
Archer has three more years of a team friendly contract (including two team options for 2020 and 2021) and Kela isn't eligible for free agency until 2022. So their moves might help them for this year but it sets them up well for the future. Also, for Archer, the Pirates kept them out of the hands of the Brewers, who desperately needed him, and Kela was kept out of the hands of about a dozen teams that either want or need young bullpen help.
More from Rox Pile
The Rockies at the deadline
I think that the Oh trade was a good one that can help them this year but also in the future so I think that it was good that the Rockies offense addressed it. But that's literally all they did. Casilla, Holliday, and, potentially, Greg Holland (if they do come together on a deal) could all be great low-risk, high-reward signings. But they could have done so much more. They could have upgraded at catcher even if they got a backup for Tom Murphy (shoutout to all the Tom Murphy guys). They also could have addressed the corner outfield spots, the rotation (particularly for a veteran), the bullpen more, and, perhaps most importantly, the bench because the Rockies roster construction is absolutely atrocious with 13 pitchers and 3 catchers on the 25 man roster.
Also, the Dbacks made a lot of moves and the Dodgers made some too, including Manny Machado.
I am glad, though, that the Rockies didn't make moves just to make moves, like mortgaging the future for Bryce Harper or trading for a non-ace in Kevin Gausman (Atlanta did that).
But, like I said, they could have addressed so much more.
Overall Grade: C-