Colorado Rockies: They do not need to acquire an outfielder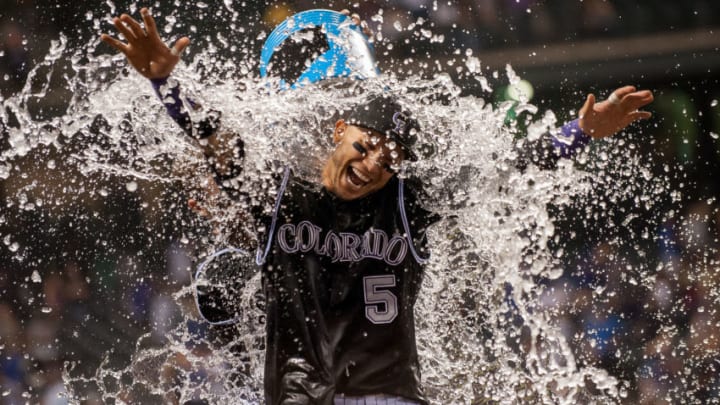 DENVER, CO - SEPTEMBER 26: Carlos Gonzalez #5 of the Colorado Rockies is drenched by a teammate after hitting a walk-off 2-run home run to put the Rockies ahead of the Dodgers 8-6 at Coors Field on September 26, 2015 in Denver, Colorado. (Photo by Dustin Bradford/Getty Images) /
On Saturday, Mike Petriello of MLB.com published an article on the 10 biggest needs for contenders before the trade deadline. One of them that he lists is that the Colorado Rockies needs to get some corner outfield help but the simple fact of the matter is this … they don't need one.
The Rockies will probably trade, or should trade, for a few things before the trade deadline. It could be starting pitching, bullpen help, catching, or perhaps a second baseman (which is most unlikely of the four because the Rockies have plenty of top prospects that can play second but I mention it because DJ LeMahieu can't stay healthy this season).
However, one of those is not need to acquire is a corner outfielder. Even at first glance, Gerardo Parra and Carlos Gonzalez, who have been the team's primary corner outfielders, have not played badly this year and, in fact, have been much better this year than last year, especially in the case of Gonzalez.
But Mike Petriello of MLB.com still thinks that both corners need to be addressed. He even mentions in the Rockies section that "they could always use pitching" but still thinks the outfield is most pressing…when it isn't.
More from Rox Pile
Since June 17 (which was Father's Day, the day that the Rockies had an atrocious 13-12 loss to the Texas Rangers after the bullpen blew it, Gonzalez has 30 hits in 28 games, 5 home runs, 16 RBI, and a slash of .303/.355/.545. If he put up those numbers for a full 162 game season, he would have 29 home runs, 93 RBI, and 174 hits.
For Parra, even though he is in a bit of a slump right now (5 hits in his last 28 at bats) since June 17, he has 23 hits in 26 games, six doubles, two home runs, 19 RBI, and a slash of .299/.367/.455. For a full 162 game slate for him, that would be 38 doubles, 13 home runs, and 119 RBI.
Overall on the season, Gonzalez has an OPS+ of 102 and Parra at 90 (because he doesn't hit for as much power as Gonzalez).
I think that it's even more glaring that the outfield is a non-issue because Petriello suggests three candidates for the Rockies to acquire: Adam Duvall of the Reds, Avisail Garcia of the White Sox, and Derek Dietrich of the Marlins. Duvall has an OPS+ of 80 this season in the hitter's haven of Great American Ballpark and Garcia has only played in 35 games this year due to injury. Dietrich is the only guy who is an everyday player who have put up numbers better than both Parra and Gonzalez.
However, if you look at the Rockies top five guys in games appeared in, only Adam Ottavino and Wade Davis have ERA's below 5.97 (or an 80 ERA+).
Final Thoughts
Obviously, you'd like as much production as you can get out of Parra and Gonzalez, they have been a lot better than they were last season. In fact, they are around league average in production with their last month being well over league average.
The simple fact of the matter is that the Rockies don't and probably won't address the outfield at the trade deadline unless something happens to fall in their laps.