Colorado Rockies (and baseball) fans: Rox Pile is looking for new writers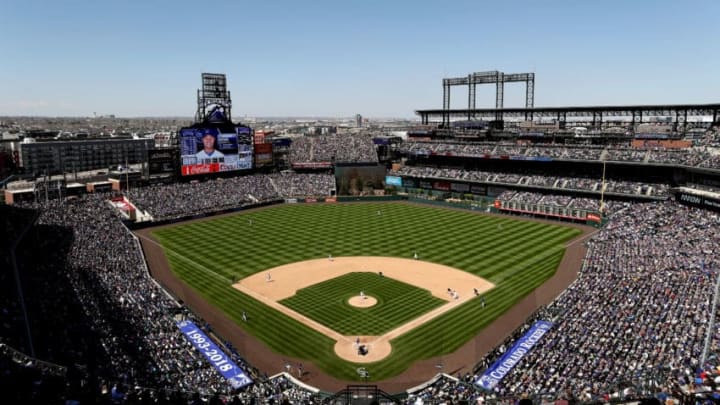 DENVER, CO - APRIL 22: The Colorado Rockies play the Chicago Cubs at Coors Field on April 22, 2018 in Denver, Colorado. (Photo by Matthew Stockman/Getty Images) /
The Colorado Rockies have struggled a lot lately so, it could mean that the Rockies may make some splashes, in buying, selling, or both, at the trade deadline. That means that you can make your voice heard on what the Rockies may (or may not) do in July and beyond.
We are looking for new contributors to help us cover the Rockies and continue to make Rox Pile one of the fastest-growing and most-read sites in the FanSided family and the Colorado Rockies community. If you are a college student looking to get your name on the sports writing radar, a fan who is passionate about the Rockies, someone who enjoys diving into the statistical side of baseball, or all of the above, we would love to have you join our team.
How is it being a member of the Rox Pile team? First, it takes you clicking here to fill out a form and start the process of applying. However, let's answer some frequently asked questions from others that have joined our team that you may also have.
How much do I need to write?
You don't need to write every day. We know that this is a passion of yours, not a full-time job. With that in mind, we ask our writers to author at least one article per month. However, it's up to you on how much you'd like to write. If you want to write an article a day, that is fantastic! If you write once a week, that's also great.
What would I write about?
There are so many great things to cover with this team. Whether you love the statistics and diving into analytics, making predictions, reporting on news, or voicing your opinion on something related to the Rockies, we have an opportunity for you.
Additionally, we are always glad to help you out on potential topics and angles. Whether you want to write something on your own or team up with Kevin Henry and/or me, the site experts, you have plenty of options with us.
More from Rox Pile
How long do stories need to be?
Again, we are flexible. From 400-word editorials to 8,000-word deep dives into the numbers that are 15 slides long, we have seen it, or maybe you have even seen it as a reader of ours.
All that is required is that a post must be 300 words of original content or more (which doesn't include things quotes) in a post. If that sounds like a lot, this post here has more than 600 words of original content so, in reality, it's not that long.
Additionally, some of our stories are picked up by our colleagues partnered with FanSided, including Bleacher Report and SI.com.
Do I have to live in Colorado?
Absolutely not. I'm a perfect example of that. I live in Sandusky, Ohio, which is home of the amusement park, Cedar Point, which you may have heard of. Sandusky is also about 50 miles west of Cleveland, Ohio…and nearly 1,300 miles away from Coors Field.
We have contributors that currently live in nearly 20 percent of the states in the United States, including Colorado, Nebraska, California, Georgia, Missouri, Arizona, Utah, Maryland, and (with me) the great state of Ohio.
We know that there are Rockies (and baseball) fans all over the country and all over the world. As long as you have a passion for the game, you don't necessarily have to call Colorado home.
Next: What the Rockies need to do in the offseason?
We would love to have you as a part of our team. Click here to start the process and we look forward to seeing your work soon!