Colorado Rockies: 1st round pick Ryan Rolison already stirring trouble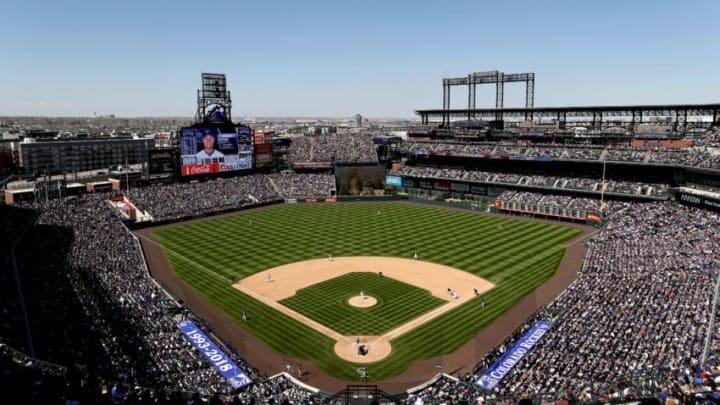 DENVER, CO - APRIL 22: The Colorado Rockies play the Chicago Cubs at Coors Field on April 22, 2018 in Denver, Colorado. (Photo by Matthew Stockman/Getty Images) /
The Colorado Rockies 1st round pick former Ole Miss pitcher Ryan Rolison (22nd overall) is already being criticized before he even takes the mound. The LHP came under fire after people went through his social media finding a distasteful tweet. 
Ryan Rolison has a lot going for him with his baseball career. He's most likely on a high due to the fact that he was drafted in the first round by the Colorado Rockies. Although that is to be expected, many first rounders are intently watched by many people. So being that people dug deep into his tweets comes as no surprise. However, Rolison most likely did not see that happening to him let alone the media finding a questionable tweet. 
The tweet that everyone is talking about was posted back in 2012 after the re-election of former U.S. President Barack Obama. The tweet under scrutiny states: "Well we have one hope left… if someone shoots him during his speech." This doesn't paint Rolison in the best light with the severity of the tweet. It, however, has since been deleted, but there hasn't been a comment made from Ryan Rolison himself on the tweet. 
More from Rox Pile
Since this backlash occurred The Athletic's Nick Groke reported that Colorado Rockies GM Jeff Bridich has since called Rolison.
Groke states that Bridich "joined him on the phone" and "had plenty to say, about baseball and Twitter."
This should be a sigh of relief for the Rockies PR as this begins to flatline following the rest of the draft process. Though Rolison's behavior has been brought to light this appears to in no way, shape, or form affect his signing with the Colorado Rockies. 
Although this is the first MLB draftee to be called into question about his behavior (there's somebody who hasn't been drafted yet who has been, though), it is not the first of the year. The very first would be NFL top draft pick Josh Allen who posted tweets using racial slurs. He then promptly took down the tweets and also issued and apology days before the draft. Many analysts did question if this would hurt his selection spot in the draft, but he was pick seventh overall in the draft. 
Next: A look at the Colorado Rockies first three draft picks
If Ryan Rolison would've have been investigated for his dangerous tweet he could've been charged with a felony. However many are ready to move on from the Colorado Rockies' first rounder's mistake. Some claim that due to the fact that Rolison was only 15 years old, he hadn't yet been able to comprehend the severity of his tweets. However, that itself could be questionable. Ryan Rolison, assuming that he signs with the Rockies, is expected to be placed in Grand Junction for rookie ball once their season starts.