Colorado Rockies: Big couple of series to open June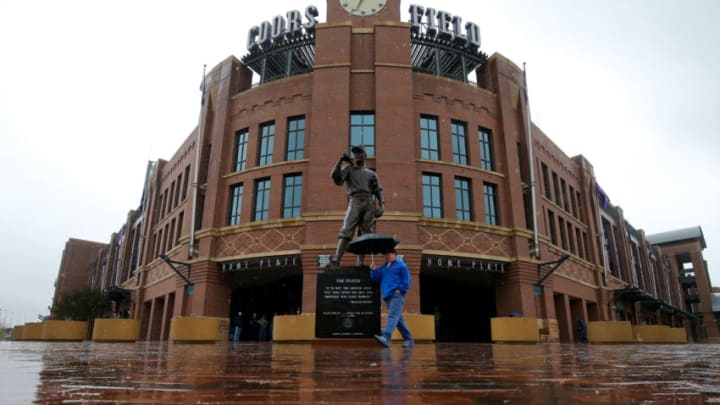 DENVER, CO - APRIL 26: A fan walks outside of Coors Field as the rain falls on April 26, 2015 in Denver, Colorado.The game between the San Francisco Giants and Colorado Rockies has been postponed due to rain. (Photo by Justin Edmonds/Getty Images) /
On Friday, the calendar will turn over to the month of June and in the month of June, they have some interesting series.
It always feels great to be first place. And that is exactly where the Colorado Rockies are. After winning their past two series, the Rockies will head into June atop the NL West and looking to continue their winning ways. They will also be preparing to welcome back second basemen DJ LeMahieu, and figuring out how to fit him back into a Rockies lineup that has looked especially good as of late.
Looking at their upcoming series, it is easy to eye up their home series against the Diamondbacks on the weekend of June 8th. It will feature the top two teams in the NL West, and will probably be the first of many more intense games to be played between the two ball clubs.
More from Rox Pile
But, the two series before that will also be very important for Colorado, as they will be against two teams that the Rockies should be able to handle, and in-turn continue their series winning streak.
The first of these two series leading up to Arizona will be the Dodgers. The Rockies have only played the Dodgers three times this season, and dropped two out of the three in LA. Colorado will avoid Kershaw in this series, and they should have a great chance to win the series against a Dodgers team that is not what it has been in the past few years.
Also, it's important to note that Maeda will not be starting neither, as he suffered an injury against Philadelphia on Tuesday.
After this, Colorado heads over to Cincinnati to face off against the worst team in the National League based on win percentage. This will be another great opportunity for the Rockies to pick up some wins before they head into the big weekend series against the Diamondbacks. The Rockies only took two of three against the Reds when they played at Coors Field. But, it very easily could have been a sweep, as Colorado had bases loaded in the 9th in the one loss in the series.
That weekend series starting on the 8th will definitely be a great one against Arizona. But it will be even more important that Colorado is able to do what they need to against the Dodgers and Reds, and make sure not to look ahead to the Diamondbacks.
Next: The bullpen's new secret weapon
In a 162 game season, each one counts. This will be an important opening two weeks in June for Colorado, and they will look to build their lead in the NL West.