Colorado Rockies: Addressing DJ LeMahieu's welcome return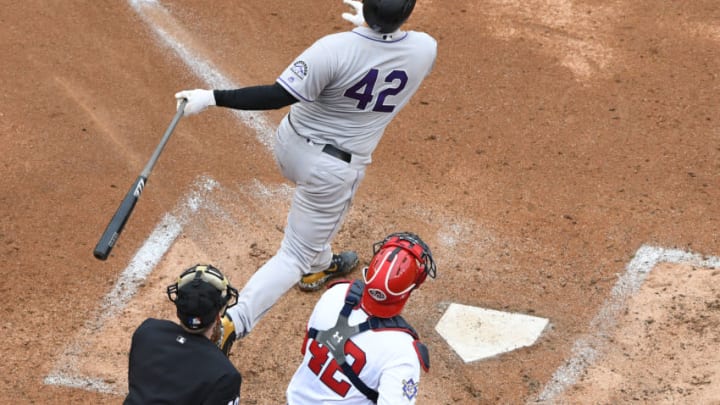 WASHINGTON, DC - APRIL 15: DJ LeMahieu #42 of the Colorado Rockies hits a home run in the eighth inning during a baseball game against the Washington Nationals at Nationals Park on April 15, 2018 in Washington, DC. All players are wearing #42 in honor of Jackie Robinson Day. (Photo by Mitchell Layton/Getty Images) /
After going on the disabled list on May 14, DJ LeMahieu is expected to return to the Colorado Rockies' lineup later this week.
In fact, he could be back as early as Friday's series opener against the Los Angeles Dodgers.
LeMahieu boasts a slash line of .279/.350/.457 in 32 games. While his batting average is lower than normal, it's made up for by his surge in power (he has five home runs and eight doubles). His OPS (.807) would be the second-highest of his career if the season ended today, following his batting-title year of 2016 (.911).
LeMahieu's return is more than welcome for the Rockies' frustrating and mediocre offense. But naturally, it presents some difficult lineup questions.
More from Rox Pile
Infielders Daniel Castro or Ryan McMahon are the only reasonable options for sending down to AAA Albuquerque. Noel Cuevas is a nice offensive surprise (.300/.344/.383), and he's currently the only right-handed option in the outfield. He deserves a spot on this team.
It's clear to me that Castro needs more time in AAA. He is overmatched at the plate, slashing .140/.159/.233 in 44 plate appearances with a wRC+ of -24.
Meanwhile, Ryan McMahon looks much better since returning to the lineup on May 26. In 12 plate appearances since then, McMahon has four hits and is swinging at less pitches outside the zone. He told BSN Denver that he felt more relaxed after getting regular at-bats again in Albuquerque, and made some "mental adjustments" to improve his confidence at the plate.
Overall, he is slashing .210/.319/.242 with a wRC+ of 44. With regular playing time, his batting average should go up, while his on-base percentage is already respectable. That kind of plate discipline should encourage those who were disappointed by McMahon's first 2018 stint with the Rockies.
However, the crux of the matter: with LeMahieu's return, it's difficult to see McMahon getting regular playing time. Ian Desmond is clearly Manager Bud Black's everyday player at first base.
The best solution would be to platoon Desmond and McMahon, especially for Desmond's sake. He is hitting .238/.300/.476 against left-handed pitching but just .156/.206/.328 against righties while striking out 27.5 percent of the time. Those numbers are even worse at home.
McMahon is slashing .204/.304/.224 in 56 plate appearances against right-handed pitching. Those are poor numbers (especially the slugging percentage — he has just one extra-base hit against righties), but they will improve as long as he maintains his confident approach and receives more consistent at-bats.
Next: There's also an update on when Adam Ottavino's return may be
Unfortunately, Bud Black isn't always willing to sacrifice the playing time of a struggling veteran for a promising prospect. But if the Rockies want to build a lead in the tightly contested NL West, it's probably the right call.