The Colorado Rockies and the portrait they're painting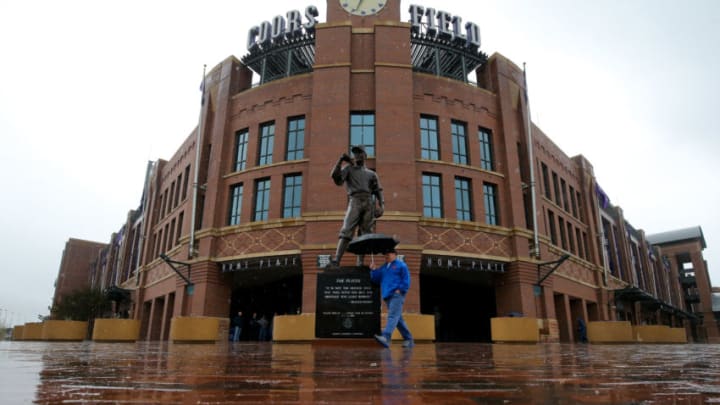 DENVER, CO - APRIL 26: A fan walks outside of Coors Field as the rain falls on April 26, 2015 in Denver, Colorado.The game between the San Francisco Giants and Colorado Rockies has been postponed due to rain. (Photo by Justin Edmonds/Getty Images) /
CHICAGO, IL – MAY 01: Jon Gray #55 of the Colorado Rockies pitches against the Chicago Cubs during the first inning on May 1, 2018 at Wrigley Field in Chicago, Illinois. (Photo by David Banks/Getty Images) /
More from Rox Pile
There are some sports analysts that say the Colorado Rockies have a good starting rotation. When this is said, I think about how Jon Gray is in actuality dragging the rest of them down. From what I've seen so far this season, I use the word ace lightly, because he's not one. Gray has essentially been up and down (mostly down) this whole season. That's not ace material in my eyes because an ace should be a consistent pitcher that dictates how the rest of the rotation does based off of his performance.
He should be the cream of the crop, but he's playing like he's just the husk that gets shucked off. The Rockies should really give thought about acquiring a veteran pitcher once the trade deadline nears. No matter how long Jon Gray's beard gets, it still doesn't prove to me that he's shown baseball maturity and made the adjustments needed to be an ace. 
The Colorado Rockies want to contend this season and based off they're record this season, they are on their way to doing just that. Though, it may be the sloppiest way of going about it. This team can barely win games at home and I'm trying to figure out how will they win games in the postseason. Colorado hasn't really done anything to thrust themselves in the spotlight or to help them get more wins.
Next: Jon Gray hasn't been unlucky he has a problem
The lack of roster moves may come back to bite them, but I truly hope not. The portrait that's being painted right now isn't pretty. However, by the end of the season, maybe it'll come out all nice and pretty for another playoff run. However, the current painting isn't going to change anytime soon with the way things are going.