Colorado Rockies series preview: 2 games with the Los Angeles Angels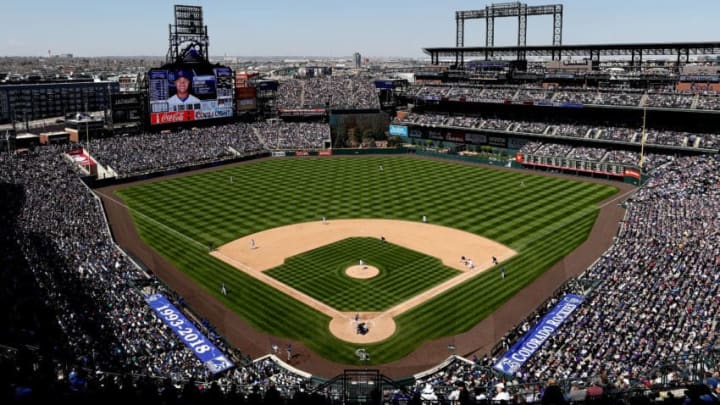 DENVER, CO - APRIL 22: The Colorado Rockies play the Chicago Cubs at Coors Field on April 22, 2018 in Denver, Colorado. (Photo by Matthew Stockman/Getty Images) /
After a 6-3 roadtrip and an off day on Monday, the Colorado Rockies come home for a six game homestand against the Los Angeles Angels and Milwaukee Brewers. First up are the two games with the Angels.
The Los Angeles Angels enter Tuesday with a 21-13 record, good enough for the best record in the AL West, the third best record in the American League, and fourth best record in the major leagues so, obviously, they have come out of the gates playing well since Opening Day. Here are a few things to look for in the Rockies two game series with them.
Shohei Ohtani…or, potentially, the lack thereof
Shohei Ohtani has been the talk of the baseball world for months now as he is the first player to be a two-way player since Babe Ruth. However, he is not slated to start either one of the two games of the series on the mound.
Additionally, offensively, he has not played the field for a single inning in the majors as he has been exclusively a designated hitter. There is a chance that he could play the outfield, like he did in Japan, but it is much more likely that he will be used as a pinch hitter. Considering that he had an ankle sprain a little more than a week ago, I doubt that Angels manager Mike Scioscia will use in the outfield. If he's just used in a pinch hitting role, he would only see two plate appearances.
That would be great for the Rockies considering that he is hitting .339/.391/.627 with four homers and 14 RBI in 16 games (offensively) this season.
In all six of his full seasons in baseball, Trout has been in the top four in MVP voting in the American League, including winning it in 2014 and 2016, on top of winning the 2012 AL Rookie of the Year voting.
In 2018 thus far, he has 12 homers (tied for 2nd best in baseball), 24 RBI, 28 walks (which leads the AL), 29 runs (tied for second best in the AL), 42 hits, and a .336/.458/.720 slash line. Extrapolated out to a full 162 game season, Trout is on pace for 58 home runs, 115 RBI, 201 hits, 39 doubles, 10 triples, and 29 stolen bases.
In addition, he has only played in five games at Coors Field in his career but he has been better than usual at Coors. He is 12-for-21 with a double, three home runs, 7 RBI, 4 stolen bases, and a slash line of .571/.640/1.048 at Coors (insert #Coors here). However, he has not faced most of the Rockies current pitching staff, as the person he has faced the most is Rockies closer Wade Davis, who is 3-for-9 against with 2 doubles and a RBI.
Also, he has 3 Defensive Runs Saved already on the season so he is an excellent defender as well. Overall, his Wins Above Replacement is already at 3.1, which is already a half win above the next highest player in baseball (Mookie Betts of the Boston Red Sox).
The Rockies have their best two starters (on paper) in Jon Gray and Tyler Anderson opposing the Angels so it will be key for them to keep Trout in check.
More from Rox Pile
The Angels starting pitchers
On Tuesday, the Rockies will face lefty Andrew Heaney. He has an ERA of 5.31 in four starts but that is a bit deceptive. In his past two starts, he has an ERA of 1.53 as he has only allowed two earned runs in 11 innings. Also, his FIP is 3.45 and he's striking out nearly 11 batters per nine innings compared to walking just 2.2 per nine innings. He is a three pitch pitcher, as he throws a sinker, curveball, and changeup, with the sinker topping out at around 94 MPH.
On Wednesday, Jaime Barria will face the Rockies. He has split his season between Triple-A Salt Lake City and the major leagues. With the Angels, he has made three starts, going 2-1 with a 3.46 ERA. His main problem has been walks, as he is allowing more than four walks per nine innings. He is a four pitch pitcher with a fastball that will top out at about 94 MPH along with a sinker, slider, and a changeup.
Ian Desmond on the upswing?
Since April 22, Ian Desmond has been playing better. He is hitting .250/.313/.477 with 11 hits. That's not great but it's better than he has been for the rest of the season (.188/.232/.385). His best offensive performance was on Sunday as he had 2 solo home runs in the Rockies 3-2 win over the New York Mets to complete their sweep.
In the Mets series, he went 4-for-13 with a double, 2 home runs, 3 RBI, and a .308/.308/.846 slash line, so, perhaps, Desmond could be on the upswing (no pun intended) and getting out of his funk.
DJ LeMahieu
Rockies second baseman DJ LeMahieu is slated to return from the 10-day disabled list in the series. For more on his return, check out our own Kevin Henry's article on what his return means for the Rockies below.
Next: The impact on DJ LeMahieu's return
Stay tuned for our coverage of the series as we will have coverage from Coors Field for the series. Check back here at Rox Pile, as well as our Twitter page, @RoxPileFS, and our own Jake Shapiro on Twitter, @Shapilicious, from Coors Field as well.