Colorado Rockies Podcast: Cubs, roster moves, and more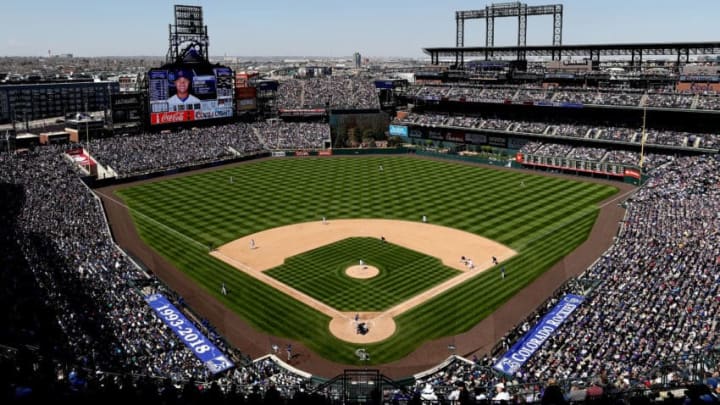 DENVER, CO - APRIL 22: The Colorado Rockies play the Chicago Cubs at Coors Field on April 22, 2018 in Denver, Colorado. (Photo by Matthew Stockman/Getty Images) /
The Rockpile Talkpile guys are back again for episode 16 of the podcast. This week Zach, John, and Jason are hosting with guest host, Kyle. They talk everything from the Cubs series to going stats so far from the season.
They start off with some fairly interesting nicknames for one another. They include the stories behind those as well. They then go over how Reddit works and how the usernames are formed. This is their transition to the Cubs series and the atmosphere during those games.
More from Rox Pile
Of course, the devastating pitch that hit Kris Bryant does come up. Thankfully, he was able to pass his concussion tests. However, they do note that perhaps that wasn't the best way to go about things. This also played into the mood of the fans as many Rockies fans did notice the amount of Cubs fans in attendance during the series.
They then move onto to giving props to Albert Almora as they believe he won the Cubs the game. Also worth noted that Almora had some great catches including the one that robbed Nolan Arenado of extra bases and Noel Cuevas of his first hit. They also say how the Cubs pitching was what cause the Rockies to lose against starters Kyle Hendricks and Yu Darvish. The Colorado Rockies were, however, able to get past Jose Quintana.
Later in the podcast, they talk about stats. One in particular would be that in the last three Colorado Rockies games, they've gotten 7+ runs, or as it's said in Colorado, they've gotten tacos. They dive into Noel Cuevas saying that they're very interested to see how he fairs in the big leagues. The Rockpile then ponders on the decision to call Cuevas up instead of Raimel Tapia.
Next: Ryan McMahon discusses early season slump
To listen to this and more of the podcast you can do so by clicking here.