Colorado Rockies series preview: Combat at Coors against the Padres again?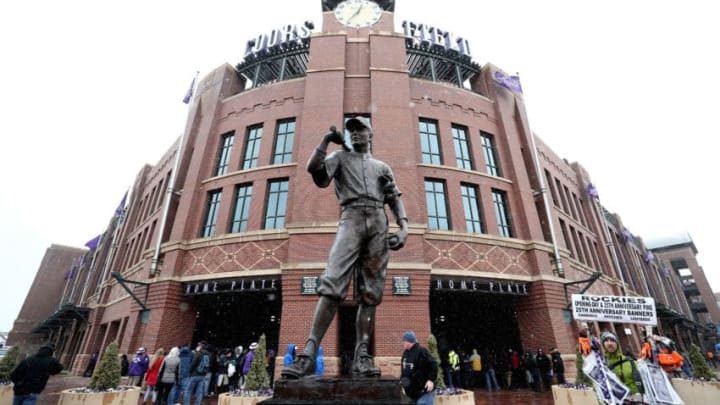 DENVER, CO - APRIL 06: Fans enter the stadium before the Colorado Rockies home opener against the Atlanta Braves at Coors Field on April 6, 2018 in Denver, Colorado. (Photo by Matthew Stockman/Getty Images) /
The Colorado Rockies and the San Diego Padres are starting a three game series tonight.
The Rockies and Padres will start a three game series tonight at 6:40 PM so we will take a look at three things to look forward to in the series.
Could combat return to Coors?
As you probably remember, the last time the Colorado Rockies and San Diego Padres faced each other, the series finale was not pretty as there were numerous ejections in the game, including Nolan Arenado and Gerardo Parra. For the Rockies, both Arenado and Parra were suspended for their actions (and Parra is serving his suspension during this current series).
Our own Jake Shapiro spoke with the Rockies after the brawl and reported on some of the things that were said after the game in this article. One of the most ominous quotes was from Nolan Arenado himself. When asked whether or not the ordeal between the Rockies and Padres would be over and done with heading into this series, Arenado said, "[w]e'll see."
He was obviously still angry about the situation but, as he said, we'll have to see if it arises again.
The Rockies rotation has to pick up some slack
Chad Bettis is starting Monday's game and he has been stellar to start the season (3-0, 1.44 ERA, 1.08 WHIP) so he has not been an issue.
However, the two starters slated for Tuesday and Wednesday have been issues. Kyle Freeland is 0-3 with a 5.85 ERA. He has been prone to the long ball as he has allowed five homers in only 20 innings of work. In addition, his FIP is 6.05, his WHIP is 1.55, and he is averaging more than four walks per nine innings. In his last start, he had a lot of pitches that were located high in the zone, as you can see below, courtesy of BrooksBaseball.net
Even though he didn't have great control against the Washington Nationals in his previous start, he was at least able to keep the ball lower in the zone.
Jon Gray will be facing the Padres on Wednesday and he has struggled all season but, particularly, in the past three starts. He is 0-3 with an ERA of 9.77. In 15 2/3 innings, he has allowed an astonishing 26 hits, 19 runs (17 earned), four homers, and an opponent slash line of .371/.413/.671 as well as a .415 BABIP.
More from Rox Pile
The Padres offense has been dormant
The Padres did not have the best offense last season. They had the second worse offense in all of baseball last season with an OPS+ of 83 (only the Giants were worst at 82). They had an offensive slashline of .234/.299/.393, which was 30th, 30th, and 28th in all of baseball.
They have improved but obviously, there really wasn't more that they could go down. Entering Monday, they are between 24th and 26th in baseball in average, on-base percentage, slugging percentage, and OPS+.
They have been particularly bad in their last two series. They have not been shutout at all but they have only between two and four runs in each of those games (six games). In those six games, they have averaged an even 3 runs per game. In that same span, they are hitting .176 with an on-base percentage of .189.
The man main to watch out for is third baseman Christian Villanueva. He is the only active Padre to have a batting average north of .250. He enters Monday with a slashline of .355/.444/.775 with seven home runs and 16 RBI. On Sunday, against the Diamondbacks, he plated both runs that they scored and he had two of their three total hits so he was, in essence, their entire offense (as he has been most of the season).
In the five games that he has played against the Rockies this season, he has three home runs, five RBI, and a .286/.333/.929 slash line (no, slugging percentage of .929 is not a typo). All of the homers were on April 3 at Coors Field in the Rockies 8-4 loss to the Padres. Two of those homers were off Kyle Freeland and the final homer was off Antonio Senzatela.
Next: Noel Cuevas talks about his MLB debut
Be sure to check back here for coverage of all three games live from Coors Field as Kevin Henry and Jake Shapiro will be there. Also, you can stay up to date by checking out our Twitter page, @RoxPileFS, and Jake's Twitter page, @Shapalicious.