Colorado Rockies: A preview of the Pittsburgh Pirates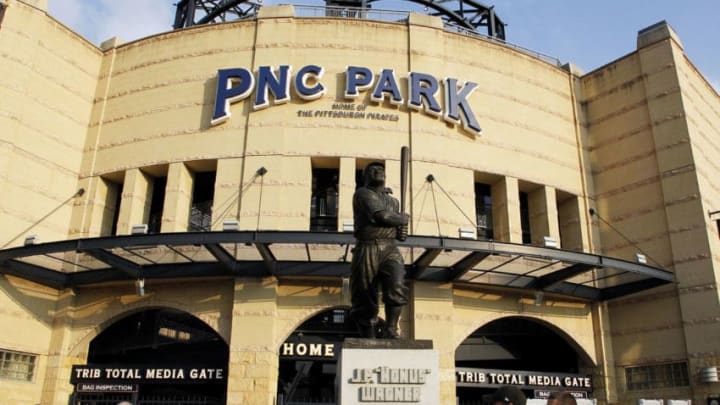 PITTSBURGH, PA - OCTOBER 01: Fans gather outside prior to the National League Wild Card game between the Pittsburgh Pirates and the San Francisco Giants at PNC Park on October 1, 2014 in Pittsburgh, Pennsylvania. (Photo by Justin K. Aller/Getty Images) /
The Colorado Rockies will start a three game series tonight at 5:05 PM MT against the Pittsburgh Pirates. Heading into the series, there are a few things to keep an eye on with the Pirates.
The Rockies took three of four games against the reigning National League East division champion Washington Nationals. They conclude their seven game roadtrip with the Pittsburgh Pirates and as the series will start here in a few hours, here are some things to keep an eye on with the Pirates throughout the series .
The Pirates offense
Entering Monday, the Pirates are 11-4, which is a much hotter start than anybody predicted. This is largely because the team's offense. They enter Monday averaging 5.8 runs per game. The main bat for the team is old friend Corey Dickerson. Even though he only had one home run, he has 12 RBI. His teammate, catcher Francisco Cervelli, also has 12 RBI and their teammate, outfielder Gregory Polanco, is tied for the MLB lead with 15 RBI.
As a result, the Pirates are either in first or second in the National League in batting average, on-base percentage, slugging percentage, and runs. Their team OPS+ (excluding pitchers) is also 119, or 19 percent above league average.
In other words, the Rockies pitchers need to be careful when pitching to them, even though their names aren't names that you would think that would be scoring a lot of runs.
More from Rox Pile
The Pirates starting rotation in the series
In the three-game series, the Pirates are slated to start Steven Brault, Trevor Williams, and Chad Kuhl. These three are the weakest three starters they have as the Rockies will avoid their top two starters, Jameson Taillon and Ivan Nova.
For Brault, he is scheduled to start today. Brault is, according to Brooks Baseball, a five-pitch pitcher, as he throws a fastball, a sinker, slider, curve, and a change-up. He's 2-0 with a 3.46 ERA thus far on the season. The main thing for him this season is being able to find his control, as he is averaging nearly five walks per nine innings and in his two starts (he also had one relief apperance on Opening Day when the Pirates and Tigers went into extra innings), he walked six in ten innings of work. He is slated to face German Marquez.
Williams has started off the season well as he is 3-0 with a 1.56 ERA in three starts. Williams is a four-pitch pitcher, as he has a fastball, sinker, slider, and a change-up. He only averages a little over five strikeouts per nine innings. With the sinker, like Brault, he is a ground ball pitcher. He has also averaged nearly four walks per nine innings as well so command can also elude him from time to time. He will oppose Chad Bettis on the mound for the Rockies.
Chad Kuhl is the pitcher who has struggled the most out of the three pitchers that the Rockies are scheduled to face in the series. He has an ERA of 5.74 and he is averaging 13.8 hits allowed per nine innings. In his last start, he faced the Marlins and allowed 11 hits as well as five runs (four earned). He also only struck out two batters, and it's not like the Marlins are the 1927 Yankees offensively. Kyle Freeland will face him Wednesday afternoon (Wednesday morning in Denver time).
The weather
On Sunday, six MLB games were postponed due to rain or snow and it very well may be the case this week with the Rockies and Pirates. There is a 50 percent chance of rain today and it is only supposed to be a high of 41 (with the temperature at first pitch projected to be around 37 degrees). On Tuesday, there is a 40 percent chance of snow and on Wednesday, there is a 40 percent chance of rain.
Next: Jake McGee: the forgotten man of the Rockies "super" bullpen
Be sure to stay tuned to our coverage, both on here and on Twitter @RoxPileFS, from Pittsburgh as our own Kevin Henry is in Pittsburgh with the team.