Colorado Rockies: The Forbes rankings on how much they are worth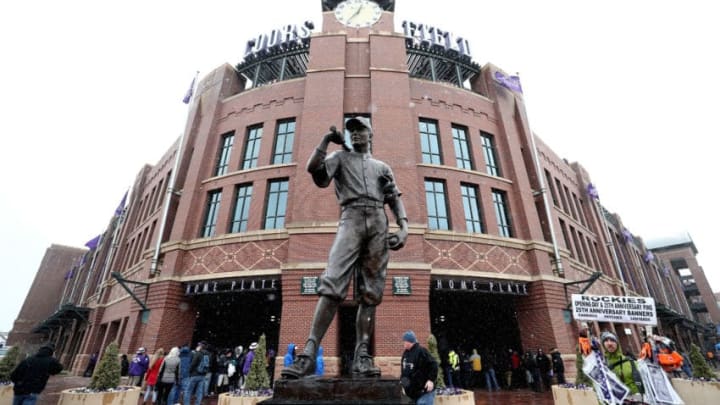 DENVER, CO - APRIL 06: Fans enter the stadium before the Colorado Rockies home opener against the Atlanta Braves at Coors Field on April 6, 2018 in Denver, Colorado. (Photo by Matthew Stockman/Getty Images) /
Yesterday, in this article in Forbes, they evaluated all 30 MLB teams and how much they are worth as of this season.
The Colorado Rockies were featured as a part of the 30 MLB teams rankings of how much the entire franchise is worth.
The Rockies were ranked 23rd among the 30 teams as they were valued at $1.1 billion, which is up 10 percent from last year, when they were valued at $1 billion. Their rank, at 23rd overall, did not change from 2017 to 2018.
It should be no shocker that the New York Yankees, Los Angeles Dodgers, and Chicago Cubs as being the most valuable as they are valued at $4 billion, $3 billion, and $2.9 billion.
Also, one notable difference between this year and last year was that there were seven teams (the Kansas City Royals, Miami Marlins, Milwaukee Brewers, Cleveland Indians, Cincinnati Reds, Oakland A's, and Tampa Bay Rays) that were valued under $1 billion. Entering this year, only the Tampa Bay Rays are valued under $1 billion.
Here are other teams that are in the top 10.
Rank
Team
Current Value
1-Yr Value Change
Debt/Value
Revenue
Operating Income
#1
New York Yankees
$4 B
8%
0%
$619 M
$14 M
#2
Los Angeles Dodgers
$3 B
9%
14%
$522 M
$68 M
#3
Chicago Cubs
$2.9 B
8%
15%
$457 M
$102 M
#4
San Francisco Giants
$2.85 B
8%
0%
$445 M
$84 M
#5
Boston Red Sox
$2.8 B
4%
0%
$453 M
$86 M
#6
New York Mets
$2.1 B
5%
14%
$336 M
$17 M
#7
St Louis Cardinals
$1.9 B
6%
12%
$319 M
$40 M
#8
Los Angeles Angels
$1.8 B
3%
0%
$334 M
$25 M
#9
Philadelphia Phillies
$1.7 B
3%
5%
$329 M
$91 M
#10
Washington Nationals
$1.675 B
5%
20%
$311 M
$11 M
More from Rox Pile
It should also be noted that the Rockies were only among a handful of teams that saw a 10 percent increase or more. Here are the highest percentages of increase.
Oakland Athletics, 16 percent
Cleveland Indians, 14 percent
Houston Astros, 14 percent
San Diego Padres, 13 percent
Minnesota Twins, 12 percent
Milwaukee Brewers, 11 percent
Chicago White Sox, 11 percent
Cincinnati Reds, 10 percent
Colorado Rockies, 10 percent
Even though, the Rockies are still in the bottom third of teams, it is nice to see them in the top third of teams in growth.
Next: Combat at Coors: Inside the Rockies-Padres brawl
That's something that I would expect to keep seeing in the next few years.