Colorado Rockies: Thoughts on a bullpen cart in Denver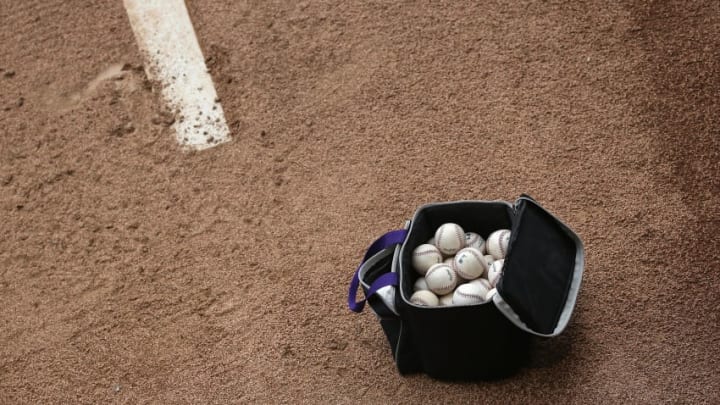 DENVER, CO - APRIL 25: A bag of baseballs sits on the mound in the bullpen as the Pittsburgh Pirates prepare to face the Colorado Rockies at Coors Field on April 25, 2016 in Denver, Colorado. (Photo by Doug Pensinger/Getty Images) /
SCOTTSDALE — On Tuesday, the Arizona Diamondbacks announced that they were bringing back the bullpen cart as part of their 20th anniversary celebration. With the Colorado Rockies celebrating their 25th season this year, it begs the question of whether the bullpen cart will be making a return to Coors Field or not.
Is there any indication a bullpen cart is coming to Denver? No, but it's fun to think about, right? Sure, it would be "retro cool" to have the bullpen cart as part of the game at 20th and Blake, but, if it were to happen, what shape would that cart actually take? There are several options.
Of course, the golf cart look is a possibility, and there are plenty of folks who come to Colorado to hit the links. But there are also plenty who come to Denver and head straight up I-70 toward the mountains. What if the Rockies bullpen cart had some resemblance to a snowmobile? Using a purple snowmobile to come out of the bullpen would be something to see, wouldn't it?
More from Rox Pile
One of the most Colorado things we see every day (no offense to Kyle Clark and our friends at 9News with that reference, of course) are Subarus driving around everywhere. Maybe some type of Subaru could be worked in as the bullpen cart sponsor and provider. It seems to be the unofficial car of Colorado, right?
With the trees and water near the bullpen area, what if we get a little nature-friendly with the bullpen cart? A jacked-up 4×4 that could drive over any boulder near Boulder (or anywhere else)? An eco-friendly car that could save on gas while zipping in from the bullpen?
I am sure there is some way to work a marijuana reference in with the bullpen cart as well. It is Colorado after all, right? Plenty of smoke coming out of the back, vape style?
Rockies reliever Adam Ottavino has an idea if the bullpen cart were to ever come to Coors Field.
""I would take it in Denver. I've had plenty of experience jogging to the mound and being a little out of breath or not having any saliva to speak of," Ottavino told Rox Pile. "What I'd really be interested in is us having it and the other team not having it.""
For reliever Mike Dunn, it's more about questions.
""It'll be interesting. How long does it take to get the cart out and get the cart there? I've never done it before so it would be weird and a change," Dunn told Rox Pile."
Next: Charlie Blackmon reveals his baseball nightmare
And what would Colorado manager Bud Black think of having the return of the bullpen cart?
""I came through an era when there were bullpen vehicles," Black, who pitched from 1981-1995, told Rox Pile. "I'm OK with it. I'm a traditionalist at heart but I'm OK with some of the funny business. I'm OK with it.""