Colorado Rockies: Complete spring training radio and television schedule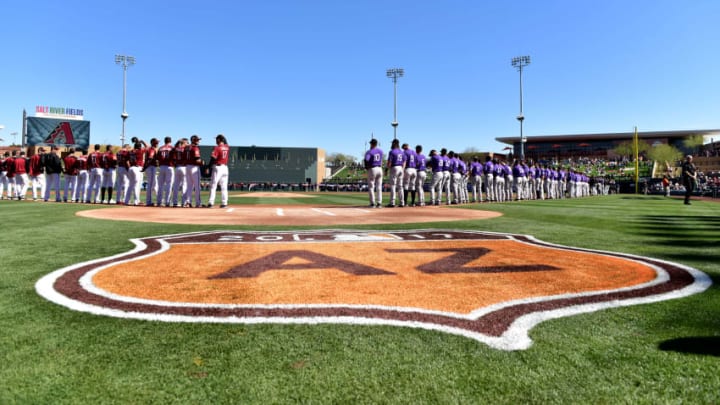 SCOTTSDALE, AZ - FEBRUARY 25: Arizona Diamondbacks and Colorado Rockies stand for the national anthem prior to the spring training game at Salt River Fields at Talking Stick on February 25, 2017 in Scottsdale, Arizona. (Photo by Jennifer Stewart/Getty Images) /
If you are not able to make it to Arizona to see the Colorado Rockies during the 2018 spring training schedule, you are in luck. There are plenty of opportunities to see and hear the Rockies from your home or work wherever you might be.
Between KOA NewsRadio 850 AM, AT&T SportsNet and MLB Network, the Rockies will have 24 games broadcast this spring. The slate begins with the opener against the Arizona Diamondbacks on February 23 and concludes with a home matchup against the Seattle Mariners on March 27.
Times and dates listed below are Mountain time so make your plans to watch and listen to some Rockies baseball.
LIVE BROADCASTS
Feb. 23 vs. Arizona at 1:10 p.m. (KOA NewsRadio 850 AM)
Feb. 24 at Cincinnati at 1:05 p.m. (KOA NewsRadio 850 AM)
Feb. 25 at Texas at 1:05 p.m. (KOA NewsRadio 850 AM)
March 3 vs. Milwaukee at 1:10 p.m. (KOA NewsRadio 850 AM)
March 6 at Seattle at 6:40 p.m. (KOA NewsRadio 850 AM, AT&T SportsNet and MLB Network)
March 10 at Milwaukee at 1:05 p.m. (KOA NewsRadio 850 AM)
March 11 vs. Los Angeles Dodgers at 1:10 p.m. (KOA NewsRadio 850 AM and AT&T SportsNet)
March 13 vs. Seattle at 1:10 p.m. (AT&T SportsNet)
March 14 at Los Angeles Dodgers at 7:05 p.m. (KOA NewsRadio 850 AM and MLB Network)
More from Rox Pile
March 17 at Milwaukee at 1:05 p.m. (KOA NewsRadio 850 AM)
March 18 vs. San Francisco at 1:10 p.m. (KOA NewsRadio 850 AM)
March 19 at Texas at 6:05 p.m. (KOA NewsRadio 850 AM and MLB Network)
March 23 vs. Cincinnati at 1:10 p.m. (AT&T SportsNet)
March 24 at Chicago Cubs at 7:05 p.m. (KOA NewsRadio 850 AM and MLB Network)
March 25 vs. Arizona at 1:10 p.m. (KOA NewsRadio 850 AM and AT&T SportsNet)
March 27 vs. Seattle at 1:10 p.m. (AT&T SportsNet)
DELAYED BROADCASTS
Feb. 28 vs. Los Angeles Angels at 1 a.m. (MLB Network)
March 5 at Los Angeles Angels at 7 a.m. (MLB Network)
March 7 at Seattle at 12:30 a.m. (MLB Network)
March 10 at Milwaukee at 2 p.m. (MLB Network)
March 12 vs. Los Angeles Dodgers at midnight (MLB Network)
March 14 vs. Seattle at 7 a.m. (MLB Network)
March 23 vs. Cincinnati at 2 p.m. (MLB Network)
March 25 vs. Arizona at 10 p.m. (MLB Network)
Next: Need some new gear? Check out these 10 ways to rep the Rockies in style