Colorado Rockies will lean on Ian Desmond's leadership in 2018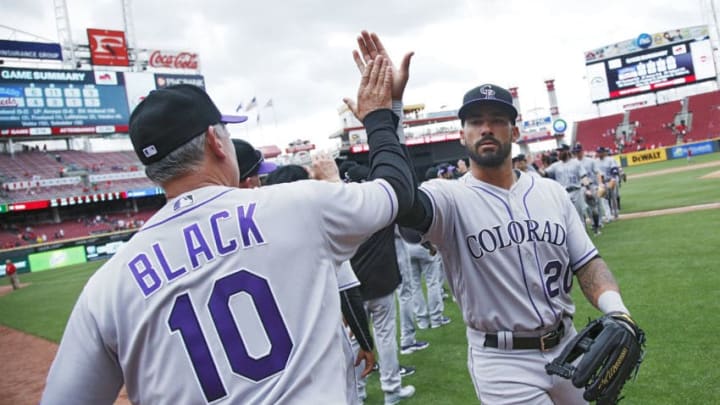 CINCINNATI, OH - MAY 21: Colorado Rockies manager Bud Black celebrates with Ian Desmond #20 after the final out in the ninth inning of a game against the Cincinnati Reds at Great American Ball Park on May 21, 2017 in Cincinnati, Ohio. The Rockies defeated the Reds 6-4. (Photo by Joe Robbins/Getty Images) /
Make no mistake about it, Ian Desmond had a rough year for the Colorado Rockies on the field in 2017. In his first season in Denver after signing a five-year, $70 million contract, Desmond couldn't stay healthy and couldn't make the transition to first base the Rockies envisioned when they inked him to a deal.
However, there was one quality that Desmond brought to the team last season that will perhaps be in even more need this season. It's not one you will find on any scoresheet or within any advanced statistic. It's the trait of veteran leadership that this young Rockies team is going to need to advance to the postseason again in 2018.
Last season, Carlos Gonzalez served often as that voice of calm when Colorado seemed to be losing its grip on the Wild Card spot. Media members would gather around his locker to hear his words of wisdom and he would give a message of encouragement that all of us would broadcast and write about for the fan base. Meanwhile, he was giving those same words of encouragement to his teammates as the Rockies were battling for their first postseason berth since 2009.
More from Rox Pile
With Gonzalez now likely gone, that leadership role may fall on Desmond's shoulders. However, it won't be a new role for him. It's something that exhibited last season with the Rockies.
I remember walking into the Rockies clubhouse during Labor Day weekend and something was different. The furniture had been completely rearranged. It was during a stretch when the Rockies had lost 15 of 22 games and there was plenty of wondering about Colorado making the postseason, despite such a great start to the season.
Desmond had come into the clubhouse early that morning and worked with the clubhouse team to rearrange the furniture and give the Rockies a new perspective when they came into work that day. The next time the furniture was rearranged was the night the Rockies poured champagne as they celebrated grabbing the second and final Wild Card spot.
It's not like the leader role is anything new for Desmond. He was praised for it during his time with the Washington Nationals and Texas Rangers, with Rangers manager Jeff Bannister calling him, "a complete stud, and a true leader."
Of course, the 32-year-old Desmond won't be the only veteran voice in the clubhouse. New catcher Chris Iannetta is 34 and the 30-year-old Gerardo Parra is always happy to let his voice be heard, in the dugout and the clubhouse. At the age of 32, new closer Wade Davis is one of six Rockies relievers to be 30 or older.
But there's more to being a leader than just gaining experience and seeing more candles on your birthday cake each year. It's an innate characteristic that not everyone is born with, and not everyone shows when it matters most.
Next: Check out the new gear in our Colorado Rockies spring training fashion guide
Desmond may not have had the opportunity to showcase his skills for a full season last year, but he was contributing in other ways. That trend in the clubhouse will continue in 2018 and beyond … and hopefully Desmond can return to his health and hitting from previous seasons. If he can, his leadership and stats will be a good thing for a Rockies team that could potentially be looking at rookie starters at first base and corner outfielder as well as last year's rookie phenoms on the mound who will be tested in their second full professional seasons.