Colorado Rockies, MLB extending protective netting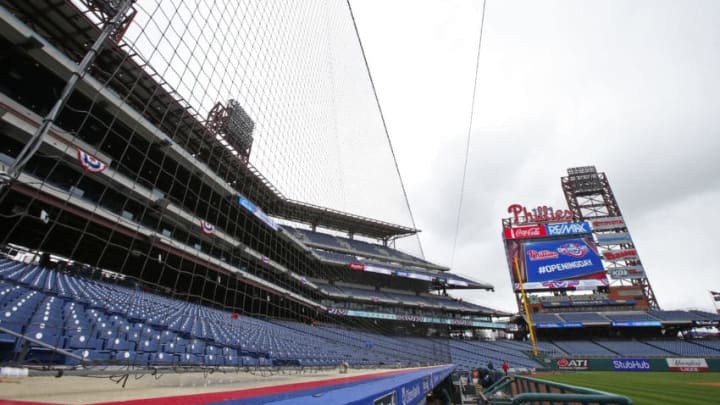 PHILADELPHIA, PA - APRIL 07: New protective netting stretches the length of the dugout to protect fans at Citizens Bank Park before the Philadelphia Phillies Opening Day game against the Washington Nationals on April 7, 2017 in Philadelphia, Pennsylvania. (Photo by Rich Schultz/Getty Images) /
The era of a flying bat or a screaming liner into the seats behind the dugouts is over, whether you are watching the Colorado Rockies at Coors Field or any other team in any other Major League stadium.
Major League Baseball has announced that every team will be extending the netting behind home plate to the furthest ends of both dugouts by the first game of the 2018 season.
"MLB Commissioner Robert D. Manfred, Jr. said, "Providing baseball fans with a variety of seating options when they come to the ballpark, including seats behind protective netting, is important.""
The extended netting is to protect fans from injuries which has haunted Major League Baseball for years.
Last year, three fans were injured at Yankee Stadium alone. A piece of a shattered bat made its way into the stands and hit a young boy in the head. Two line drives injured a young man and a 2-year old girl on separate occasions.
More from Rox Pile
The question is, why hasn't MLB done this sooner? There have been injuries from these types of plays for years.
Why extend the netting now?
It has to do with the fan's viewing experience, which would diminish if MLB extended the netting. This could lead to a decrease in sales.
I find this ridiculous. The fans are the customers. Major League Baseball has to make sure the customer's safety is first priority.
Also I have personally sat behind the netting before and, at first, it's hard not to notice the netting. However, after a couple of innings when I started getting into the game, I hardly noticed the netting.
Not to mention the fact that, after a couple of foul tips that would have completely disfigured my face safely bounce off the netting, I can't help but be thankful for it.
"Manfred went on to say, "Major League Clubs are constantly evaluating the coverage and design of their ballpark netting and I am pleased that they are providing fans an increased inventory of protected seats.""
It sounds like MLB teams are experimenting with the netting to make sure the fans viewing experience is pleasurable while also being safe.
Next: 5 numbers to know about Colorado's new scoreboard
Overall, while a little late, Major League Baseball and Commissioner Manfred made a smart move extending the netting.