Colorado Rockies: How the current free agent trend is a good thing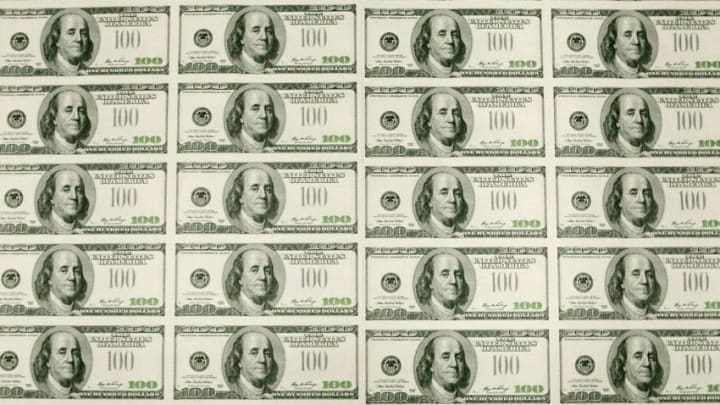 WASHINGTON - MARCH 26: Sheets of one hundred dollar bills wait to be cut into singles at the Bureau of Engraving and Printing on March 26, 2009 in Washington, DC. The roots of The Bureau of Engraving and Printing can be traced back to 1862, when a single room was used in the basement of the main Treasury building before moving to its current location on 14th Street in 1864. The Washington printing facility has been responsible for printing all of the paper Federal Reserve notes up until 1991 when it shared the printing responsibilities with a new western facility that opened in Fort Worth, Texas. (Photo by Mark Wilson/Getty Images) /
Is a recent trend in free agency potentially a very good thing for the Colorado Rockies? With prices dropping on some of the players who still haven't signed and Colorado seemingly needing another bat in its lineup, it is very possible.
On Monday, the San Francisco Giants made another move to bolster its lineup, adding Austin Jackson to the mix to play center field. The outfielder had a bounceback year with the Cleveland Indians last season and made one of the best defensive plays of the season on a catch at Fenway Park.
While it was an improvement of a season for Jackson last year, it was still expected that he would fetch more in free agency than the two-year, $6 million deal that he inked. That lower-than-expected price tag caught the attention of Jeff Passan of Yahoo Sports in this tweet.
Remember those words, "The bottoming out of this market is staggering, and what's scary is that this is just the beginning." They could be key to Colorado's chances to add a surprising weapon into the armory.
Big-name free agents such as J.D. Martinez, Jake Arrieta, Yu Darvish, Alex Cobb and Lance Lynn are still on the market. So are former Rockies such as Carlos Gonzalez, Jonathan Lucroy and Mark Reynolds. So are a number of other players who will eventually find homes on MLB rosters.
More from Rox Pile
Many teams are waiting to spend big dollars on what is expected to be the biggest free agent class in recent history next offseason. Others are worried about going over MLB's luxury tax.
Whatever the reason, the trending prices going down for today's free agents is a good thing for the Rockies. At the top prices perhaps being fetched, Colorado might not be able to look at a Logan Morrison or Lorenzo Cain to add a bat to their roster. Now, with prices dropping and teams looking for bargains rather than to spend at will, those expecting high-money long-term deals may be sorely disappointed.
That's a good thing for teams like Colorado who perhaps aren't known as historically lavish with their spending. Could the Rockies be playing the waiting game to see if a certain free agent falls into their budget range? Don't forget that Rockies manager Bud Black mentioned that the Rockies could be signing another player in the next few weeks.
Next: How Nolan Arenado plans to improve this offseason
San Francisco has been smart with its budget with its offseason moves so far this season, including Jackson on Monday and a trade for Andrew McCutchen that certainly seemed to favor the Giants. Colorado general manager Jeff Bridich could be holding his cards close and waiting for the right moment (and right price) to improve his team as well.