Colorado Rockies: Two fan perspectives for the 2018 season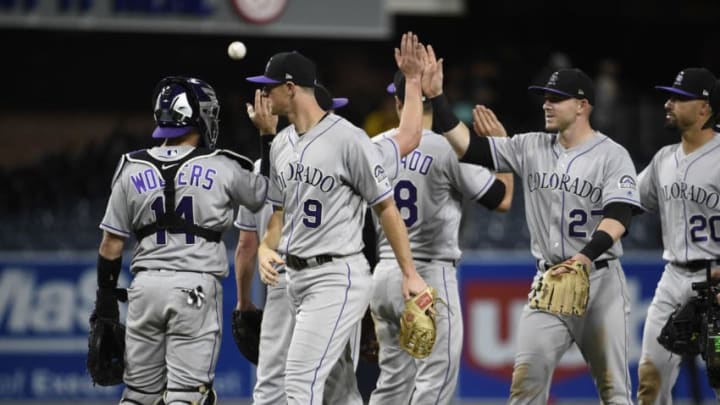 SAN DIEGO, CA - SEPTEMBER 22: Colorado Rockies players celebrate after beating the San Diego Padres 4-1 in a baseball game at PETCO Park on September 22, 2017 in San Diego, California. (Photo by Denis Poroy/Getty Images) /
With Spring Training right around the corner, the Colorado Rockies look to prepare for the 2018 season. There is a lot to be hopeful about with the upcoming season, due in part to the four signings that happened this offseason. The Rockies now have solidified the bullpen and found a catcher until Tony Wolters is ready. I've already questioned if that's everything that will happen this offseason in this article.
With Colorado's hot stove turning very cold, it's time to look at projections and make some predictions.
You've already seen the title of this article. You know exactly what I'm talking about now. As a Rockies fan or any fan to a specific team, you already have bold statements in mind. There are two types of fans that I've come across over the years. You have the logical fan who knows exactly what his or her team will be able to accomplish during the season. Then you have the impassioned fan who states every year, "We're winning it all!" or "This is our year!" You all know the one person who acts like that. While writing this, I debated whether or not to be that fan. So I'll give you both sides.
Logical Fan
More from Rox Pile
I truly do believe that the Rockies are one of the best teams in the National League, but it's a bit farfetched to say that they will win the World Series this year. Now don't take my words and assume that I don't think they'll go far.
In reality, with the offseason moves that have taken place, the Rockies will be able to keep up with the Los Angeles Dodgers. At the most, I'll say that this year they will grab the top NL Wild Card spot. They have potential to have a neck-and-neck division race with the Dodgers. Now with the free agents they've signed, the Rockies must live with the benefits or even consequences of paying these men so much. All in all, if the Rockies didn't perform at the same level they were at last year or better, I'd be stunned.
Passionate Fan
General Manager Jeff Bridich already said it, this team can win the World Series. It's going to happen and all of these moves this offseason have just made me believe it more. The Rockies "super bullpen" can shut down any batter. Wade Davis as our closer will show that our pitching will be something for other teams to worry about. Our batting is outrageous with Nolan Arenado, DJ LeMahieu and Charlie Blackmon at the top of the lineup and this year will be no different. We should easily be able to slide past the Diamondbacks and make our way to the top of the NL Wild Card. The Dodgers might be a little challenging, but the Rockies put up some hard-fought wins against them last year and finished with a 10-9 record against the eventual National League champions. The NLDS will be a great series against them, but the Rockies will come out as the top team. Surpassing all odds, they will go on to the World Series and win it all.
Drawing Conclusions
It was odd writing that last one. You say all the same things in your head or to a rival team, and then go back and think about it. Do I want the Rockies to win it all this season? Of course I do. Do I think they will achieve that this year? It's not out of the question, but based on what the front office has done this so far this offseason, it could be a repeat of last year, but with better pitching.
Next: 3 questions the Rockies need to answer soon
The Rockies want to show us that they have all the pieces together and have solved the puzzle for the 2018 season. They're missing a few pieces though and the picture is not perfect, but they'll find them soon enough. When that happens, we'll all know it and we'll become the radical passionate fans that we truly are.