Colorado Rockies history: Denver named a finalist for expansion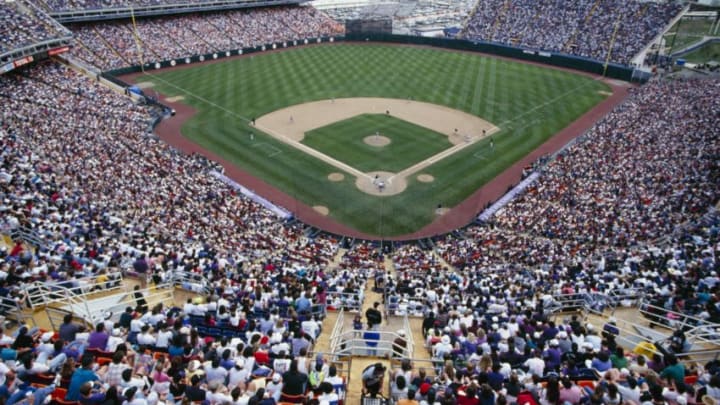 DENVER - APRIL 11: A general view of Mile High Stadium during the MLB game between the Montreal Expos and the Colorado Rockies on April 11, 1993 in Denver, Colorado. (Photo by Tim DeFrisco/Getty Images) /
On this day in Colorado Rockies history, Denver was named a finalist for an expansion team in Major League Baseball.
On December 18th, 1990, the city of Denver received a little bit of a Chanukah or early Christmas present with the city being named one of six finalists for the next round of expansion teams for Major League Baseball. The other five were:
Buffalo, New York
South Florida (in the Miami metropolitan area)
Orlando, Florida
St.Petersburg/Tampa, Florida
Washington, D.C.
Just a little over six months later, on June 11, 1991, Denver and Miami would be rewarded further by being recommended by a league committee to be the two winners of teams for expansion in the National League.
Less than a month later, on July 5th, 1991, Denver was officially granted a franchise, that would later be named the Colorado Rockies.
Baseball nearly didn't make it, though
The owners of the team that was granted to Denver were Mickey Monus and John Antonucci. Perhaps, you've never heard of them. Heck, even one of the franchise's best players, Vinny Castilla, was quoted in 2007 by ESPN saying, "Who were they?"
Well, you may not have heard of them because, in February 1993, less than two months before the Rockies would play their first-ever regular-season game, Monus was indicted by a federal grand jury on nearly 130 counts in a $1 billion embezzlement and fraud case for Phar-Mor. Monus was the President of the now-defunct Ohio based company.
Monus was convicted on more than 100 of these counts and was sentenced to nearly 20 years in prison. He only served a little more than 10 years of time but he had to give up his share of the team. Antonucci gave up his shares in early 1993.
More from Rox Pile
Aftermath
Jerry McMorris would buy the team from Monus and after Antonucci gave up his shares, McMorris brang in Charlie and Dick Monfort as business partners shortly thereafter. McMorris would give controlling interest to the Monforts in 2005.
Of course, Miami received a team, like Denver, and won the World Series in 1997, their fifth season of play. They would be the quickest team to win the World Series after being created until 2001 when the Arizona Diamondbacks won the World Series in their fourth season of existence.
Tampa would obviously get a franchise prior to 1998 and Washington D.C. would get a franchise after the Montreal Expos relocated to D.C. after the 2004 season.
Next: Could Adrian Gonzalez be a fit for the Rockies at 1st base?
Buffalo and Orlando are the only two cities not to have MLB teams of the 1993 finalists.