Colorado Rockies awarded Competitive Balance Round pick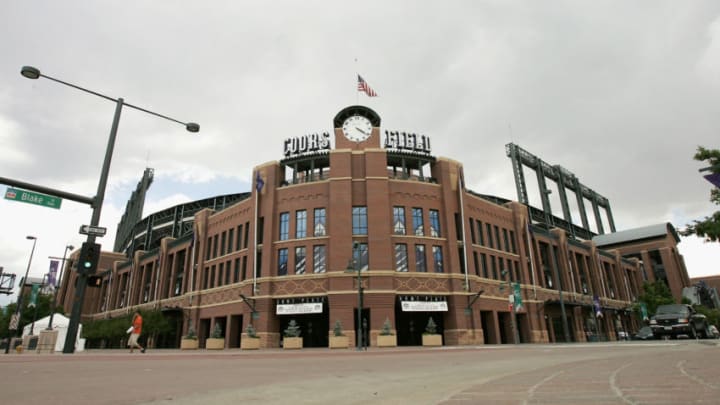 DENVER - JUNE 14: A general view of the exterior home plate entrance to Coors Field, home of the Colorado Rockies on June 14, 2004 in Denver, Colorado. (Photo by Brian Bahr/Getty Images) /
This week, Major League Baseball announced the order of the competitive balance picks for the June 2018 draft. The Rockies will have a pick in Competitive Balance Round A and, according to the preliminary order, they will have the 38th pick in the 1st round of the draft.
According to MLB.com's Jonathan Mayo, the Rockies, as of now, will have the 38th pick in the first round of the June 2018 amateur draft as a part of the league's competitive balance. The order of the draft can be changed depending on which free agents that were offered qualifying offers and the teams that sign them.
How they are chosen
The preliminary order is chosen by a formula that takes into account the revenue of the franchise as well as the winning percentage of the team in the previous season (meaning the 2017 season).
Previously, under the previous Collective Bargaining Agreement (or CBA), the competitive balance picks were determined by a random lottery.
As Purple Row mentions, the Rockies revenue must be doing well as they dropped behind six of the seven other teams in Round A of the picks. They also had to pick in Round A this year as a part of the new CBA agreement, teams that picked in round B in one year get to pick in round A in the following year.
More from Rox Pile
How the competitive draft picks look like
Only 14 teams are considered to be small enough of a market to qualify for the competitive balance picks. The preliminary order looks like this.
Round A
31. Pittsburgh Pirates
32. Tampa Bay Rays*
33. Baltimore Orioles
34. San Diego Padres
35. Arizona Diamondbacks
36. Kansas City Royals
37. Cleveland Indians
38. Colorado Rockies
39. St. Louis Cardinals
* Compensation for not signing Drew Rasmussen in 2017
Round B
70. Miami Marlins
71. Oakland Athletics
72. Tampa Bay Rays
73. Cincinnati Reds
74. Milwaukee Brewers
75. Minnesota Twins
Next: What Brandon Morrow could bring to the Rockies bullpen
This has only been around since 2013 so most of the people drafted in these have not made it to the majors yet but one player of note that has been very good who was in the draft was Corey Knebel. Knebel is the Milwaukee Brewers closer and he was an All-Star in 2017. He had an ERA of 1.78 with 39 saves last season. However, he was drafted by the Tigers in that draft.