Colorado Rockies history: 1995 playoffs and comparing to 2017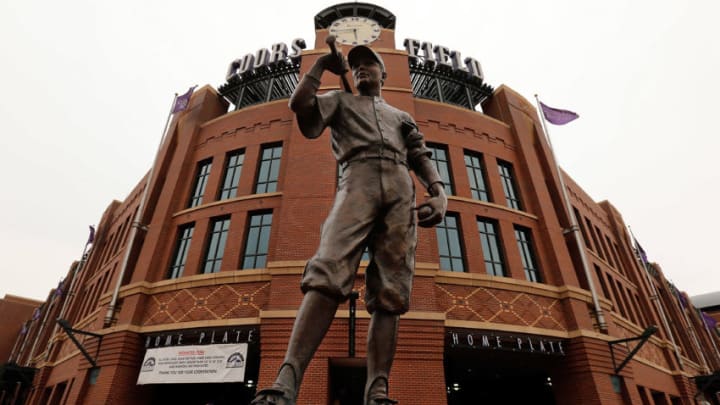 DENVER, CO - AUGUST 13: 'The Player' statue stands sentry outside the stadium as the Milwaukee Brewers face the Colorado Rockies at Coors Field on August 13, 2012 in Denver, Colorado. (Photo by Doug Pensinger/Getty Images) /
DENVER – MAY 1: Vinny Castilla #9 of the Colorado Rockies bats during the game against the Atlanta Braves in the first game of a double-header at Coors Field on May 1, 2004 in Denver, Colorado. The Rockies won 3-2. (Photo by Brian Bahr/Getty Images) /
In Game Four, the Rockies featured the same lineup as they did in Game Three with the exception of the ninth spot. That was filled by starting pitcher Bret Saberhagen. For the Braves, they had another different lineup that looked like this.
Marquis Grissom, CF
Mark Lemke, 2B
Chipper Jones, 3B
Fred McGriff, 1B
David Justice, RF
Ryan Klesko, LF
Charlie O'Brien, C
Rafael Belliard, SS
Greg Maddux, SP
More from Rox Pile
The first scoring happened in the top of the third inning as Dante Bichette hit a three run home run off of Maddux to make it 3-0. However, the Braves, in the bottom half of the inning, would take the lead on a two-run double by Chipper Jones. Fred McGriff followed with a two-run home run.
Two more runs scored in the bottom of the fourth as Klesko scored on a fielder's choice with Belliard batting and Grissom notched a RBI double to make it a 6-3 lead.
Fred McGriff hit a solo homer off of Kevin Ritz, who came on in relief of Saberhagen in the bottom of the fifth to make it 7-3.
Vinny Castilla made it 7-4 on a home run in the top of the sixth but that would be the end of the Rockies scoring. After the Braves scored three more in the bottom of the sixth, the Rockies would be vanquished a few, short innings later by a score of 10-4 to end their season and end their ride.
Final Thoughts
In each of the first three games of the 1995 NLDS, the bullpen faltered as they gave up the lead late in the game (but the offense won it for the Rockies in the 10th inning of game three). It is something that is obviously of vital importance in the postseason. Most postseason teams who thrive have good bullpens. For example, for the Cubs and Indians in 2016, their bullpen ERA was fourth and second in their respective leagues.
In 2017, it's not surprising that the Dodgers and Indians have the best bullpen ERA's considering that they have the top two records in their leagues.
This season, the Rockies bullpen ERA is 21st in baseball at 4.45 (Cleveland leads baseball with a 2.86 bullpen ERA entering Sunday).
In the month of August, the Rockies bullpen had their best month as they had an ERA of 3.94. However, they have an ERA of 4.78 in the month of September (entering Monday).
Next: An outlook on the Rockies remaining 2017 schedule
It will be something to pay attention to in the next two and half weeks or so and in the playoffs.