Colorado Rockies: Mike Tauchman talks about returning to Denver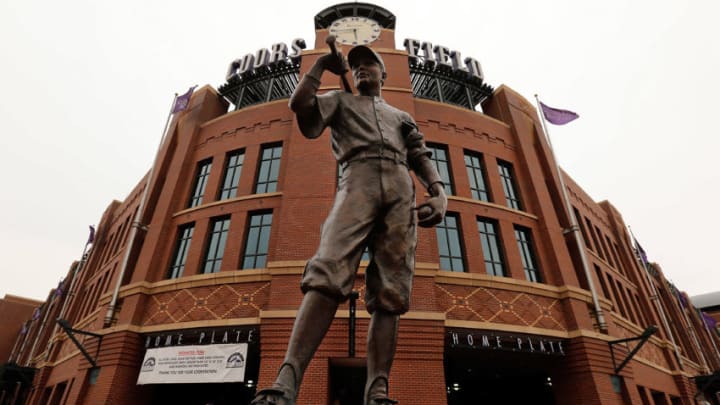 DENVER, CO - AUGUST 13: 'The Player' statue stands sentry outside the stadium as the Milwaukee Brewers face the Colorado Rockies at Coors Field on August 13, 2012 in Denver, Colorado. (Photo by Doug Pensinger/Getty Images) /
With Friday's roster expansion from 25 to 40 players, the Rockies recalled three pitchers and three position players. One of those position players was outfielder Mike Tauchman and he took a few minutes out of his day to talk exclusively with our own Kevin Henry yesterday.
Rockies outfielder Mike Tauchman was recalled from Triple-A Albuquerque as a part of September roster expansion on Friday before the start of their series with the Arizona Diamondbacks. Before the game, he talked with our own Kevin Henry about a few things.
First off, he talked about how he's a bit more comfortable at the major league level since he had two stints with the Rockies this season before this most recent call-up yesterday.
"[It's] a comfort level thing. You know, you spend your whole life trying to get here and it's almost like it's on a pedestal. For a long time, it feels on a table and, once you get up here, it takes a little bit of an adjustment period to be 'alright, I'm here [and] I belong here. It's still baseball, go out and play baseball.' So every time I've been back, it's kind of just feeling more and more comfortable–with the clubhouse and the size of [being in the majors] and all."
More from Rox Pile
He also said that even though he has made a few trips between Denver and Albuquerque, he says that he understands his role and, at this point, it just comes with the territory. He says how that it hurts a little bit more and more every time he gets sent back to Albuquerque but it just makes him that more determined to work to stay in the major leagues.
Final Thoughts
I wouldn't be surprised if during the month that Tauchman sees a few starts in the outfield for Bud Black. If the team actually starts playing like they showed fans from April through July and they clinch a wild card spot before the last series of the season, I would definitely suspect that Tauchman will be making a few starts in the outfield.
Next: It's time to panic, Rockies fans
However, for now, at least, I think that he will be used by Bud Black late in games as a pinch-hitter, pinch-runner, or defensive replacement.