This Day in Rockies' History: The shortest game in Coors Field history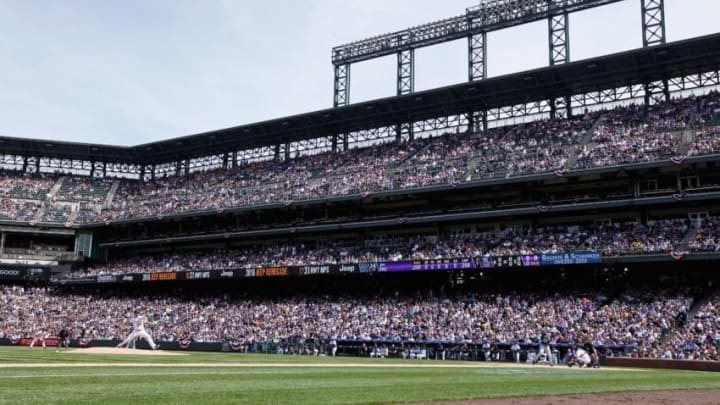 DENVER, COLORADO - APRIL 08: Starting pitcher Jordan Lyles #24 of the Colorado Rockies delivers the first pitch of the game against the San Diego Padres during opening day at Coors Field on April 8, 2016 in Denver, Colorado. Lyles collected the loss as the Padres defeated the Rockies 13-6. (Photo by Doug Pensinger/Getty Images) /
On this day in Rockies' history, the shortest game in Coors Field history was played.
Nine years ago today in Rockies' history, the National League Champion Rockies, led by their manager Clint Hurdle, were facing the San Diego Padres, led by manager (and current Rockies manager) Bud Black. Neither team was playing well as the Padres were 33-51 and the Rockies were 32-51 entering the game.
Lineups
           Padres                                                                                                   Rockies
More from Rox Pile
Pitching Matchup and Results
Pitching for the Padres was Josh Banks. He five innings and allowed six hits, four runs (all earned), and only needed 74 pitches but was saddled with the loss. Clay Hensley and Cla Meredith combined for three innings of relief and only allowed 2 hits and no runs.
For the Rockies, Aaron Cook started and pitched a complete game shutout. He went 9 innings, gave up five hits, no walks, and four strikeouts.  He also only needed 79 pitches to complete the shutout. The Rockies put up four runs for Cook and it was more than enough for him.
In the fifth inning, the Rockies' scored all four of their runs. Tulowitzki led off the inning with a double. Cook bunted successfully to advance Tulowitzki to third base. Taveras had an RBI single that scored Tulowitzki. Taveras stole second base and Helton and
Holliday both walked. In addition, Hawpe had a RBI groundout that scored Taveras (and a throwing error by Khalil Greene also plated Helton). Then, Hawpe stole second during Atkins' at-bat. As a result, Hawpe was driven in by Atkins with an RBI single that capped off the Rockies four-run inning.
Time of Game/Interesting Facts
The game only lasted an hour and fifty-eight minutes, which was nearly an hour less than the average time of game in 2008 (2:54). Cook, Banks, Hensley, and Meredith combined for only 185 pitches. 26,221 people attended the game.
Next: Bud Black, Charlie Blackmon, and Birthday Fun
Aftermath
The Padres finished their season by going 63-99 record, which landed them in last place in the NL West. The Rockies also finished their season with a lackluster 74-88 record, third place in the division. The previous year in 2017, both teams as they competed against each other in the 2007 Wild Card Game as the Rockies prevailed in the game and advanced all the way to the 2007 World Series, where they were swept by Boston Red Sox. Also, 2008 was the last full season in which Clint Hurdle managed the Rockies. He later went to Pittsburgh to manage the Pirates where he is still today. Bud Black was the Padres manager through the middle of the 2015 season. The Rockies hired him to become their manager before this season.