Colorado Rockies: 3 Things You Should Know on February 17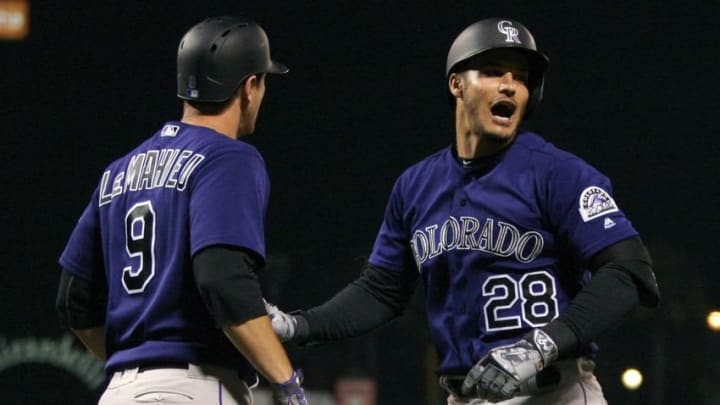 Jul 5, 2016; San Francisco, CA, USA; Colorado Rockies third baseman Nolan Arenado (28) right is greeted at home plate by second baseman D.J. LeMahieu (9) after Arenado three run homer in the seventh inning of their MLB baseball game with the San Francisco Giants at AT&T Park. Mandatory Credit: Lance Iversen-USA TODAY Sports /
It's Friday! Even better, it's one day closer to the first Colorado Rockies spring training game, scheduled for February 25 against the Arizona Diamondbacks.
Let's take a look at three stories that are making headlines today … and three stories we think you should check out for a good dose of Rockies news to start your day.
The Color Purple
As you've probably heard by now, the Rockies tweaked their primary color of purple in the offseason. It's a subtle difference, yet one that is expected to make a big difference in ensuring the Rockies are purple when they take the field, no matter the time of day or stadium they're in.
More from Rox Pile
Well, with players reporting to Arizona, the color switch is starting to get its first reviews in. Some are good. Some are … a little more hesitant to give a thumbs up to the new color, shall we say.
Patrick Saunders of The Denver Post took a sampling of what some of the players are saying about the new color. You can read the reactions of DJ LeMahieu, Chad Bettis, Carlos Gonzalez and others by clicking here.
More Purple Thoughts
Did the Rockies tweak the color of their uniforms to appease Nolan Arenado? It's a question that is floated out there by Jake Shapiro of BSNDenver.com in this article.
You'll have to check out the article to see the reasoning behind the question being asked. You'll also have to drop Jake a line and ask him which is his favorite member of the Tooth Trot at Coors Field. He'd love to talk to you about it.
No Sudden Movements
We'll link to a tweet for our last link of the article. Saunders was part of a conversation where new manager Bud Black was asked about possibly moving his outfielders around when the season began. However, Black quickly reiterated there wouldn't be any big changes to the outfield alignment in 2017.
Next: What Colorado's Batting Order Could Look Like with a DH
We did find it interesting that right field wasn't mentioned in the tweet. We're guessing CarGo being moved anywhere in the outfield wasn't even a remote possibility.