Colorado Rockies: 3 Bullpen Arms To Consider This Offseason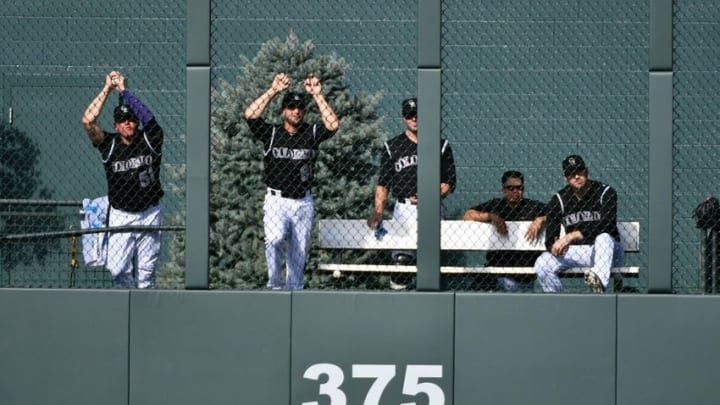 Sep 5, 2016; Denver, CO, USA; General view of the bullpen of the Colorado Rockies during the ninth inning against San Francisco Giants at Coors Field. The Rockies defeated the Giants 6-0. Mandatory Credit: Ron Chenoy-USA TODAY Sports /
The Colorado Rockies bullpen isn't quite as bad as most would have you believe, but they're also still a long way from good. At this point in the season, there isn't much that can be done to fix that. With expectations on the rise in 2017, however, here are three pending free agents that could improve the relief corps.
1) Drew Storen
Aug 9, 2016; Seattle, WA, USA; Seattle Mariners relief pitcher Drew Storen (45) throws against the Detroit Tigers during the twelfth inning at Safeco Field. Mandatory Credit: Joe Nicholson-USA TODAY Sports /
One of the things that makes building a quality bullpen so difficult is that relievers are usually highly volatile. It's not uncommon to see a guy go from closer to waiver wire in short order. Storen is a prime example of how quickly things can get derailed.
Drafted 10th overall by the Washington Nationals, Storen quickly ascended to the majors. By 2015, he had established himself as their closer. The Nationals were looking to make their bullpen even better though, and infamously traded for Jonathan Papelbon.
When people have criticized that trade in hindsight, they've generally cited the catastrophic effect that Papelbon had on the team's chemistry. Equally damaging, however, was the implosion of Storen's confidence.
Storen was demoted to a setup role and promptly fell apart, posting a 9.22 ERA after Papelbon's arrival. The fall was so ugly for the embattled reliever that he was sent to Toronto for light-hitting outfielder Ben Revere. Storen's issues continued north of the border, as he allowed 23 runs in just 33.1 innings before being designated for assignment and traded to the Seattle Mariners.
Why would the Rockies be interested then? Well, the sample size is admittedly very small, but Storen has pitched better in Seattle than he did in Toronto. More importantly, Storen was a successful MLB closer a little over a year ago. Also, it's probably not going to take much to sign him this offseason due to recent struggles.
Storen is far from a sure thing, and the Rockies (or any other team) shouldn't go in to next season relying on him to fill a major role. He is an intriguing talent with a track record of recording big outs (batters have hit just .218 against him in high-leverage situations in his career) and he should be cheap. When you're a mid-market team like Colorado, that's a combination that should get your attention.
2) Brett Cecil
Sep 3, 2016; St. Petersburg, FL, USA; Toronto Blue Jays relief pitcher Brett Cecil (27) throws a pitch against the Tampa Bay Rays at Tropicana Field. Mandatory Credit: Kim Klement-USA TODAY Sports /
Boone Logan is set to be a free agent at the end of the season, and while there's still a chance Colorado retains him, his solid season might have pushed him out of their price range. If Logan leaves, the Rockies would have to replace him or start 2017 dangerously thin on proven left-handed relief help.
More from Rox Pile
Cecil, a 30-year old lefty who's been a fixture in Toronto's bullpen since 2009, would fill that void nicely. Much like Storen, Cecil was a first-round draft pick that quickly ascended to the major leagues and found early success before experiencing some recent adversity.
Cecil's ERA this season is over two full runs higher than it was in 2015. The numbers this year are discouraging, but that can be attributed, at least partially, to injures. Cecil pitched just once between May 4 and June 29 as he worked his way back from a torn lat.
From 2013 to 2015 however, Cecil posted three straight seasons with ERAs under 3.00. The issues he's encountered this season aren't exaclty a good thing, but they actually might help Colorado land a guy they wouldn't have had a shot at otherwise.
Of the three names on this list, Cecil will almost certainly be the most expensive. However, his contract shouldn't be much more than what the Rockies paid Logan this season. If Colorado is willing to bet that this season was a fluke and not the start of a trend, they might be able to lock up the prime years of one of the game's better left-handed relievers.
Aug 27, 2016; Toronto, Ontario, CAN; Toronto Blue Jays relief pitcher Joaquin Benoit (53) walks out of the dugout during batting practice before a game against the Minnesota Twins at Rogers Centre. Mandatory Credit: Nick Turchiaro-USA TODAY Sports /
Storen and Cecil are both young enough to consider keeping beyond 2017, but Benoit falls firmly in to the "one-year rental" category of signing. The reason for that is very simple; Benoit is turning 40 next year.
At the start of the season, it looked like Benoit was nearing the end, allowing four home runs in 24.1 innings with Seattle. Coincidentally, Benoit was traded for Storen, and since arriving in Toronto, Benoit has been reborn. The ageless right-hander has made 17 appearances for the Jays, but the next run he allows will be his first with the club.
Next: 10 Numbers That Show Colorado's August Struggles
Benoit may not want any part of playing 81 games at Coors Field in 2017. We don't even know for sure that he wants to play a 16th MLB season. If he's available and open to the idea though, Benoit would make an excellent setup man for Adam Ottavino.