Pat Valaika, an "Interesting Player," Joins Colorado Rockies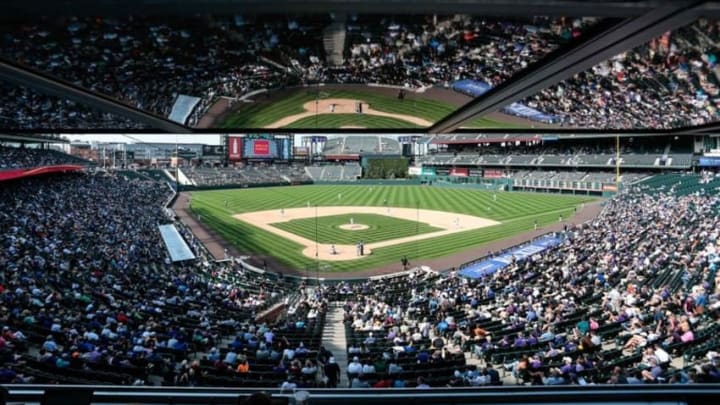 Aug 31, 2016; Denver, CO, USA; A general view of Coors Field in the seventh inning of the game between the Colorado Rockies and the Los Angeles Dodgers. The Rockies defeated the Dodgers 7-0. Mandatory Credit: Isaiah J. Downing-USA TODAY Sports /
Vinny Castilla yelled across the Colorado Rockies locker room at Pat Valaika. In a whirlwind of introductions for the rookie who had just been called up, Castilla wanted to make sure he had met veteran pitcher Jorge De La Rosa.
It was just one in a series of surreal moments for Valaika, who joined the Rockies on Tuesday prior to their game against the San Francisco Giants. Beaming, Valaika said it all still didn't seem real, especially before he had even taken batting practice for the first time at Coors Field.
We first got a sense of Valaika and his skyrocketing success earlier this season in an article we did highlighting the Hartford Yard Goats. Interestingly, radio broadcaster Dan Lovallo gushed about Valaika on a team that, at the time, also featured David Dahl, Raimel Tapia and others destined for the big leagues.
"I'll also say that Pat Valaika is an unsung hero for this team," Lovallo said. "He plays third, second, and short and does whatever is needed for the Yard Goats. He's a quiet leader for this team. If you give me nine Pat Valaikas, I'll take on anyone. He also has a career high in homers and is knocking in runs when given the chance."
Valaika smiled when told of Lovallo's quote.
More from Rox Pile
"That's my personality. That's a great compliment," he said.
Hartford was the first stop for Valaika this season. In 108 games, he batted .269 with 13 homers and 67 RBI. On August 7, he was called up to Triple-A Albuquerque. In 28 games, he batted just .209. However, he hit for the cycle on August 22 in a 7-1 win over Fresno.
Despite the low Triple-A average, Colorado saw enough in Valaika to bring him to LoDo for the rest of 2016. Drafted in the ninth round of the 2013 draft out of UCLA, Valaika will be celebrating his 24th birthday on September 9 as a member of the Rockies.
"Amazing. Everything I've dreamed of. It's been a lot of years of hard work and it's an amazing feeling to be up here with this team," Valaika said.
So what his reaction to the news he was joining the Rockies?
"Joy. Pure joy," Valaika laughed. "Excitement. It was pretty emotional. A lot of years of hard work culminating so it was pretty emotional. I was absolutely surprised. You never know. I'm not the one who makes decisions so I was surprised. It was a very happy moment."
Valaika was so new in the locker room that he didn't know yet what was expected of him in Colorado's grand scheme of things. However, he's ready to do whatever is needed in Denver.
"I just want to help this team win in any way that I can," Valaika said. "I'll do anything to help the team win."
Next: How Stephen Cardullo Was Honored By His Former Team
Colorado manager Walt Weiss likes what he sees in his new weapon.
"He's another great story," Weiss said. "A little bit under the radar probably if you look at all of these prospect lists, but he's a very tough kid, mentally and physically. He's grinded his way into the picture here. He kept performing and has overcome some things. He's very versatile. He can play second, third or short. He's a good defender. He's an interesting player. He's right-handed and he has some juice in the bat. That makes him even more interesting."