Jeff Hoffman Debut: Box Score Doesn't Tell The Whole Story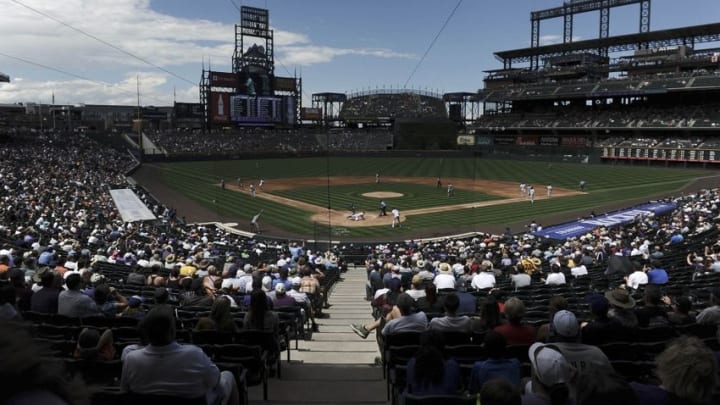 Jul 20, 2016; Denver, CO, USA; General wide view of Coors Field in the fourth inning of the game between the Tampa Bay Rays against the Colorado Rockies. Mandatory Credit: Ron Chenoy-USA TODAY Sports /
There will be plenty of folks who will simply look at the box score for the Colorado Rockies game on Saturday night and throw their hands in the air. "Jeff Hoffman got knocked around in his big league debut," they'll say. They're partially right, but that's not the whole story.
Absolutely, the Chicago Cubs took their swings at Colorado's highly touted rookie. Yes, some of those connected, including a 469-foot blast by Kris Bryant that ended Hoffman's night.
On the surface, it was a rough night for Hoffman. But it certainly wasn't rough enough to sound the warning lights about his talent or skills on the mound.
Hoffman finished his first Major League outing by allowing seven runs (six earned) on seven hits in four innings. He threw 77 pitches, including 47 for strikes. However, the vast majority of the damage inflicted by Chicago came as Hoffman went through the Cubs lineup for the second and third time.
On his first trip through the Chicago lineup, Hoffman gave up just one hit, a leadoff single to Dexter Fowler. He erased him on a sweet double play started by Ryan Raburn to end the first inning.
That was the only runner the Cubs would have through the first three innings. Hoffman struck out two consecutive batters to end the second and start the third for his only two Ks of the night.
More from Rox Pile
It was the fourth where Hoffman would begin having his problems … and it would begin again with Fowler. The former Colorado center fielder logged a single then advanced to third on a throwing error by Hoffman on an attempted pickoff play.
From there, three straight hits would give the Cubs a 2-0 lead. A two-run single by Miguel Montero two outs later would push the advantage to 4-0.
With an offense as potent as the Cubs, the dam can break quickly. And it did on Hoffman.
An error by Raburn to open the next inning would open the floodgates again. After the error came a walk to Fowler (Hoffman's only free pass of the night) then Bryant's monster shot.
Game. Set. Match.
The buzz created by Hoffman's debut was similar to the one surrounding Jon Gray's callup last season. Gray wouldn't earn his first MLB win until May 13 of this year yet he's now widely considered the ace of the Rockies staff.
At the age of 26, Tyler Anderson was able to come into Coors Field as a rookie this season and quickly find his stride. He's two years older than Gray and three years older than Hoffman.
Next: Why LeMahieu is Colorado's Most Underrated Player
While Rockies fans have been excited to see Hoffman's debut, it's also important to remember that development takes time. It did for Jon Gray. It will for Jeff Hoffman. Saturday night was a start down the road, not the destination.