Colorado Rockies: We Need to Talk About Ryan McMahon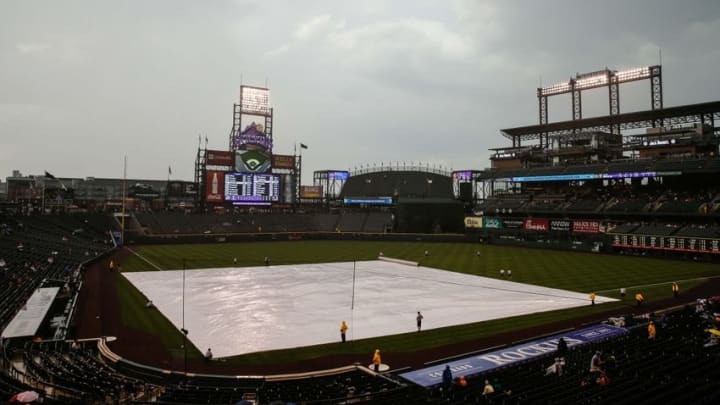 Aug 2, 2016; Denver, CO, USA; A general view of the infield tarp in the first inning of the game between the Colorado Rockies and the Los Angeles Dodgers at Coors Field. Mandatory Credit: Isaiah J. Downing-USA TODAY Sports /
A number of the Colorado Rockies top prospects this season have had successful offensive seasons at the Double-A level with the Hartford Yard Goats. One of their most highly-regarded young hitters has struggled though, and it's fair to wonder if there's cause for concern.
It's no secret that the Colorado Rockies have a fixation with former quarterbacks. Todd Helton, Matt Holliday and Seth Smith were all signal-callers in college before becoming Rockies, and the organization also used draft picks on NFL quarterbacks Michael Vick and Russell Wilson.
So it wasn't a shock when Colorado selected Ryan McMahon in the second-round of the 2013 MLB Draft. McMahon, in addition to starring on the baseball diamond, was the starting quarterback at Mater Dei High School in Southern California, a school nationally known for it's football program.
Scouts felt that McMahon could grow quickly if he focused on baseball and upon arriving in the minors, he immediately showed why. From 2013 through 2015, McMahon moved up a level each year and was dominant at each stop.
Feb 29, 2016; Scottsdale, AZ, USA; Colorado Rockies third baseman Ryan McMahon (85) poses for photo day at Salt River Fields. Mandatory Credit: Rick Scuteri-USA TODAY Sports /
After McMahon slashed .300/.372/.520 for High-A Modesto last year, the buzz around the corner infielder spread across the scouting community. Baseball America ranked McMahon as the 43rd-best prospect in baseball before this season, up 52 spots from his ranking of 95th the year before.
McMahon started the year with the Yard Goats, and there was some belief that he could finish the season in Denver if he continued to pound the baseball.
Things have not gone according to plan this season for McMahon though. His average is down to just .246, and his OPS has fallen 165 points from last year. The power has also fallen off; after averaging a home run every 25.4 at-bats in his first three years, McMahon has averaged one every 40.0 at-bats this season.
There's no way to sugarcoat this, it's been a bad year at the plate. The good news is there are a number of reasons not to hit the panic button on McMahon quite yet.
First off all, McMahon is still very young. He's only 21-years-old, roughly three and a half years younger than the average Double-A player. If McMahon had played college baseball, 2016 would have been his junior season. Despite being in his fourth professional season, McMahon still has a lot to learn, and that isn't a knock on him, just a reality of the game at the highest levels.
McMahon has also had to deal with playing in a far worse environment for hitters this season. Most teams in the California League (where McMahon had a great year with the Modesto Nuts in 2015) have smaller ballparks in warm, dry cities. As a result, it's widely regarded as one of the most hitter-friendly leagues in the minors.
McMahon has played his games this year in the larger ballparks and colder climates of the Eastern League. There's a long line of hitters that tore up the California League, only to see their numbers drop when they switch coasts.
More from Rox Pile
The last piece of good news is that McMahon has finally found a position where he can field like a professional baseball player. That might sound overly harsh, but he committed 39 errors in 129 games at third base in 2015.
Because of this (and because the guy playing third for the Rockies right now isn't going anywhere), McMahon has played first base in roughly 40 percent of his starts this season. It's not a large sample size obviously, but he's looked much more comfortable on the other side of the diamond. In 2016, McMahon has a .986 fielding percentage at first base and a .924 fielding percentage at third base.
So, will everything eventually work itself out with McMahon? That remains to be seen, because while there's plenty of reason for optimism, there's a flaw in his game that doesn't bode well for his future success: McMahon strikes out with alarming regularity.
Striking out a lot in the major leagues isn't great, but it doesn't necessarily mean a player can't still be an effective hitter. Trevor Story strikes out a lot and he's still pretty good. When a player is striking out frequently in the minor leagues though, it's a bigger cause for concern.
McMahon has struck out in just under 30 percent of his at-bats this season. It's the highest of his career and the fourth year in a row his K rate has risen. In the A-ball, McMahon was talented enough to overcome the strikeouts, but now it appears the league has caught up to him.
The pitching in the lower levels of the minors is a far cry from the big leagues, as you might imagine. When a hitter is consistently struggling to make contact against the pitchers in Single and Double-A, the problem generally only gets worse at the higher levels.
Next: Colorado Rockies Countdown: Top Five Left Fielders
McMahon has started to have a bit more success at the plate over the last month or so, and there's a decent chance he'll figure things in time. But right now, the idea of McMahon playing at Coors Field feels more like "if" than "when".