Colorado Rockies Trade Deadline: Jeff Bridich is X-Factor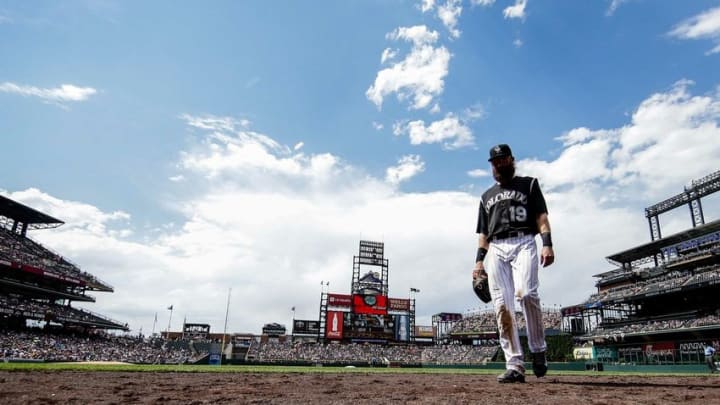 Jul 24, 2016; Denver, CO, USA; Colorado Rockies center fielder Charlie Blackmon (19) walks off the field in the middle of the fourth inning against the Atlanta Braves at Coors Field. Mandatory Credit: Isaiah J. Downing-USA TODAY Sports /
As the Colorado Rockies and the rest of Major League Baseball continue to count down to the trade deadline on Monday, MLB.com took an interesting look at all of the general managers in the league.
With the Rockies quiet thus far as the weekend kicks into full gear, many folks are still wondering exactly what Colorado general manager Jeff Bridich will do as the deadline approaches. Will he stick with the team he has or will he pull another surprising trade like last season when Troy Tulowitzki was sent to the Toronto Blue Jays?
In its article, MLB.com categorized each general manager into one of five categories: Tried and True, New School, Gunslingers, Hybrids, and X-Factors. Paul Hagen, the author of the article, put Bridich into the Gunslingers category.
From Hagen's article…
Jeff Bridich, Rockies 
Bridich has one of the lowest public profiles in baseball, and he likes it that way. He works hard to stay out of the media and distributes information, even to potential trading partners, on a need-to-know basis. Still, the fact that Bridich was willing to trade fan favorite Troy Tulowitzki in his first Deadline as a GM last season indicates that this is a guy who's willing to absorb short-term backlash if he believes a move will be best for the franchise.
More from Rox Pile
It's an interesting take on Bridich. I never would've considered him much of a gunslinger simply because he keeps things so close to his vest. Think back to all of the guessing that surrounded the days leading up to Colorado's first draft pick this year. Still, if making one major trade qualifies Bridich as a gunslinger in the eyes of the author, so be it. I just don't agree with it.
I'm thinking that Bridich would fall more into the X-Factor category. You don't know what's coming and a trade deadline season that started with so much talk about so many players, including Carlos Gonzalez, Charlie Blackmon, Jorge De La Rosa, Boone Logan, and others, seemingly in the mix for a possible trade has been very quiet.
However, as I write this late on Friday night, the Rockies have yet to do anything. We've all thought we might know what was coming as the minutes pass … but nothing has happened. Well, nothing has happened yet. Is it the calm before the storm?
Certainly, tomorrow morning we could all wake up to news of a major trade … or we could all tune into Colorado's home game with the Los Angeles Dodgers on Tuesday night and see the exact same roster prepare to take on their National League West foes.
That's the beauty of having an X-Factor for a general manager. You just don't know what's going to happen.
Last season after the trade deadline passed, I remember sitting on a conference call with Bridich and other members of the Rockies media in a room just off the visitors' clubhouse inside Busch Stadium in St. Louis. Bridich explained in no uncertain terms that he wasn't just going to give a player like CarGo away to another team. If a trade was going to happen, it was going to benefit the Colorado Rockies … not just be convenient or forced.
Once again, Bridich is contemplating any potential moves as the trade deadline approaches. The latest talk has Logan possibly going to the Blue Jays. Another Toronto-Colorado trade? Anything is possible.
Next: 5 Bold Predictions for Colorado's Second Half
That's what makes this time of year so fascinating and interesting … especially with an X-Factor leading your franchise.