Colorado Rockies Embrace Pokemon Go Craze with Promotion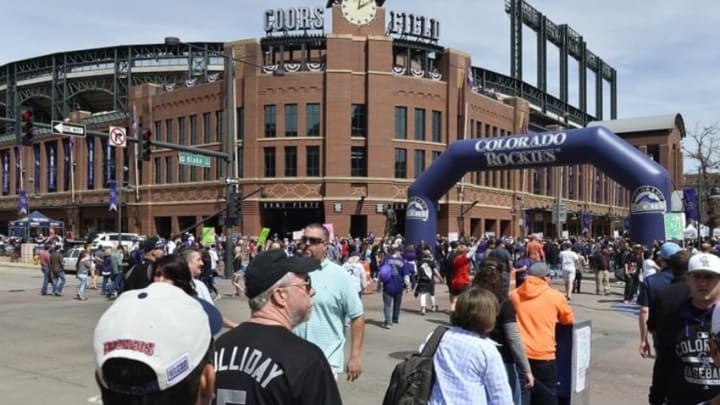 Apr 8, 2016; Denver, CO, USA; General view of fans heading to Coors Field before the game between the San Diego Padres against the Colorado Rockies. Mandatory Credit: Ron Chenoy-USA TODAY Sports /
If you're into Pokemon Go and the Colorado Rockies, your worlds are getting ready to collide on Sunday afternoon when the Rockies finish up their four-game series against the Atlanta Braves at Coors Field.
And this comes on the heels of Star Wars Night on Saturday night, meaning it's a great weekend to get your inner geek on at 20th and Blake.
Here's the official tweet from the Rockies, telling you everything you need to know about Sunday activities…
In the words of my 18-year-old daughter, "that sounds pretty cool." She's caught the Pokemon craze like so many other people throughout the world. Jordan Freemeyer, one of our friends at Purple Row, did a great job with an article detailing some of the Pokemon finds he found at Coors Field. If you're into the craze, it's worth a read.
With Star Wars and Pokemon getting their own days at Coors Field, here are a couple of other theme ideas that would allow sci-fi fans to enjoy their time even more during a Rockies game.
More from Rox Pile
Star Trek Night
Hey, Star Wars had its own night so it's time fans of the U.S.S. Enterprise and its crew had its time as well. With Chris Pine leading the crew of the Enterprise back into outer space in this summer's "Star Trek Beyond," it's a perfect time to have fans don their Vulcan ears and tell each other to live long and prosper.
Want to have a little more fun? Have one of the current or former Star Trek cast members throw out the first pitch and hang around for some photos. Personally, I think it would be pretty great to see Sir Patrick Stewart hum a fastball right down the middle and then point his finger at the Rockies dugout and say, "Engage."
Big Bang Theory Night
While I can't see Dr. Sheldon Cooper/Jim Parsons throwing much of a first pitch, how fun would it be to have some of the cast members of the award-winning show pay a visit to Coors Field?
Let's face it, whether you're a fan of The Flash, Green Lantern, Star Trek, Star Wars, Doctor Who or a number of other sci-fi shows, you could feel a kindred spirit with many other fans on Big Bang Theory Night.
Come on, you're telling me it wouldn't be cool to see Raj standing on the pitcher's mound, wearing a Rockies jersey? Well, it would be … just as long as there's nothing like this that happens …
Next: Why The Rockies Should Call Up Tom Murphy
So what are some of your ideas for a theme night for the Rockies, sci-fi-related or not? Let us know below!