Tyler Anderson: Why the Rockies Lefty Has Been Successful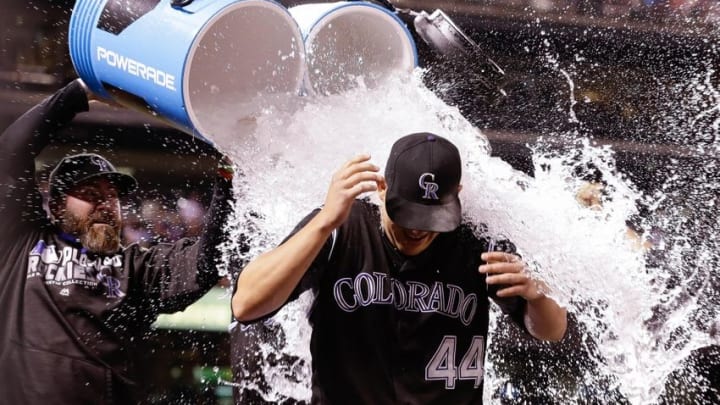 Jul 9, 2016; Denver, CO, USA; Colorado Rockies starting pitcher Tyler Anderson (44) is doused with water by teammates following the game against the Philadelphia Phillies at Coors Field. The Rockies defeated the Phillies 8-3. Mandatory Credit: Isaiah J. Downing-USA TODAY Sports /
Despite being a first-round pick back in 2011, there was little hype surrounding Tyler Anderson's big league debut back in June. But after just seven starts with the Colorado Rockies, the young left-hander has earned a spot in their long-term plans for the rotation.
Unless you're a hardcore Rockies fan who follows the minor league affiliates closely, chances are you were not familiar with Tyler Anderson two months ago. Anderson was the 2014 Texas League Pitcher of the Year with the Tulsa Drillers, but a stress fracture in his elbow cost him the entire 2015 season.
Many scouts looked at Anderson's unorthodox delivery and foresaw injury problems, so when it happened, many of those same scouts wrote him off as a prospect. At the end of last season, Jim Callis published his list of the Rockies top 30 prospects. He named 16 pitchers … and Anderson was not one of them.
A combination of injuries and ineffectiveness forced Colorado's hand though, and in the span of a little over a month, Anderson went from pitching for the Modesto Nuts to making his MLB debut. At the time, the Rockies were likely just hoping Anderson would be passable until they could get Jorge De La Rosa back to normal.
More from Rox Pile
Well, as you likely already know, Anderson has since changed the Rockies plans by pitching better than anyone would have imagined. After his win last night against Tampa Bay, Anderson is 2-3 with a 3.43 ERA and a 1.26 WHIP.
Those numbers aren't going to make you forget about Clayton Kershaw, but they're solidly above average, especially for a rookie … and ESPECIALLY for a rookie who has made five of his first seven starts at Coors Field.
The first instinct with a player experiencing unexpected success like this is to chalk it up to luck, but nothing about Anderson's statistical profile seems to suggest that's the case. His xFIP is 3.32, his BABIP is .315, and his LOB% is 76.5. If anything, Anderson has actually been slightly unlucky so far. So the question remains: How is this happening?
The first explanation is a simple but important one … Anderson rarely allows walks. Even after surrendering a career-high three walks last night in his start against Tampa Bay, Anderson's BB/9 ratio is 1.93. Not only is that by far the lowest of all Rockies starters this season, it's one of the lowest by any starter in franchise history.
Tyler Anderson throws against the Miami Marlins /
Jun 19, 2016; Miami, FL, USA; Colorado Rockies starting pitcher Tyler Anderson (44) delivers a pitch during the first inning against the Miami Marlins at Marlins Park. Mandatory Credit: Steve Mitchell-USA TODAY Sports
Of course, all the strikes in the world can't save you if those strikes are getting clobbered. Thus far, Anderson has managed to avoid that by generating an unusually high number of grounders. 59.1% of all balls put in play against Anderson have been on the ground; the MLB average is 45%. That's an enormous disparity, and a large part of the reason why Anderson's HR/9 ratio (0.86) is also significantly better than league average (1.16).
It's not exactly a secret that walking fewer batters and getting more grounders is a good way to increase your effectiveness as a pitcher. The hard part is figuring out how to actually do that. Anderson might be showing a way to do that, and interestingly enough, the strategy he's using also seems to be working for another Rockies starter named Tyler.
In 2013, Tyler Chatwood had the best season of his young career despite having a career-low K/9 ratio. He was able to accomplish this by throwing his curveball more and forcing a higher percentage of ground balls. Chatwood battled arm injuries that season though, and eventually had Tommy John surgery the next year.
The 2016 version of Tyler Chatwood has statistics that look nearly identical to the 2013 model. He's not striking guys out, but he's doing a great job of letting his excellent defensive infield do the work. There's one key difference though; Chatwood has started throwing a cut fastball and saved the curve for rare occasions.
Batters facing Chatwood now have to account for pitches breaking both away from and towards them, and have very little time to figure which way it's going to be. Anderson does the same thing, but adds a solid change up and a deceptive left-handed delivery. The end result, in both cases, is usually a ball on the ground, and balls in the ground turn into outs more often than not.
One of the main knocks against Anderson when he was a prospect was that he lacked a third pitch to complement his fastball and his change up. While a more consistent slider would be nice, right now it appears that Anderson has found his third pitch in the form of his cut fastball.
Next: Making Some Bold Second-Half Predictions
This isn't to argue that everyone should be throwing the cutter, because there are plenty of different ways to be successful as a pitcher. But right now, with arguably the best defensive player on the planet at third, there's never been a better time to be a ground ball pitcher at Coors Field.