Tyler Anderson's Bat, Arm Lead Colorado Rockies to Win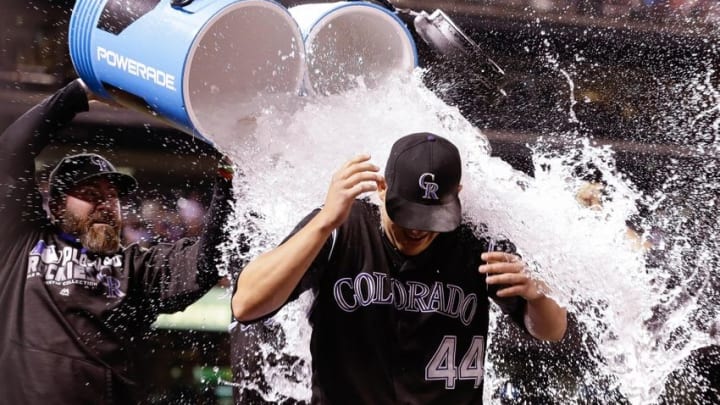 Jul 9, 2016; Denver, CO, USA; Colorado Rockies starting pitcher Tyler Anderson (44) pitches in the first inning against the Philadelphia Phillies at Coors Field. Mandatory Credit: Isaiah J. Downing-USA TODAY Sports /
First career hit. First career homer. First career win. Tyler Anderson was a do-everything kind of guy for the Colorado Rockies on Saturday night at Coors Field.
Anderson collected his first hit in the Majors in the third inning with a single then followed that with a two-run homer in the fifth, helping the Rockies grab an 8-3 decision over the Philadelphia Phillies before a sellout fireworks-hungry crowd of 48,105.
His offensive efforts, as well as a six-run sixth-inning explosion from the Rockies, helped Anderson net his first MLB win as he improved to 1-3 on the season.
Oh, and when Anderson wasn't raking at the plate, he was working his usual magic on the mound. In his sixth career start, Anderson turned in his fourth quality outing, allowing two earned runs on nine hits and striking out six. He also didn't walk a batter, boosting his strikeout versus walk numbers to 32 versus just six free passes.
The control from Anderson was evident at the start as he struck out Peter Bourjos looking to open the game.
More from Rox Pile
While Anderson was in control most of the night, Tommy Joseph once again proved to be a thorn in Colorado's side. One night after blasting a pinch-hit three-run homer to propel the Phillies to a 5-3 victory, Joseph would once again leave the yard, this time victimizing Anderson for a second-inning solo shot to open the scoring.
Joseph would plague Anderson and the Rockies again in the fourth, opening the frame with a double and eventually scoring on an RBI single from Carlos Ruiz to push Philadelphia to a 2-0 edge.
That, however, would be the only damage that the Phillies would inflict upon Tyler Anderson, who left after his 105-pitch performance, including 70 that went for strikes.
Sure, we loved Anderson's blast and moxie on the mound, but what else was noticeable for the Rockies on Saturday night? Well…
Wolters singled with two outs in the fifth to extend the inning and allow Anderson to get to the plate … and hit his line-drive homer to right field.
The rookie catcher then had arguably the biggest hit of his career. With the bases loaded in the sixth inning, Wolters laced a 2-1 pitch from Phillies starter Jerad Eickhoff down the first base line for a bases-loaded triple, his first three-bagger of his career, to balloon the Colorado lead to 7-2.
Nolan was once again Nolan at the plate
OK, so things didn't look so great when Nolan struck out in the first inning, continuing a whiff-heavy stretch at the dish. We even wondered if he was pretty fatigued after what's been a long and arduous first half. However, Arenado quickly rediscovered his powerful offensive swing.
Arenado doubled in the sixth inning and then, one frame later, blasted a leadoff triple down the right field line. It was his 24th double and second triple of the season.
Lyles can't get clean
The Rockies keep giving Jordan Lyles chances and the 25-year-old right-hander keeps being unable to take advantage of them.
Next: Why Arenado Isn't in the Home Run Derby
Lyles worked three innings for the Rockies on Saturday night, giving up four hits and an earned run while earning his first save of the season. It continued a disturbing trend for Lyles where he has yet to work a clean appearance for the Rockies this season. His ERA as a reliever is roughly half of what it is as a starter (8.55) but Lyles keeps giving up hits or walks when he's on the mound … and those eventually turn into runs as they did for the Phillies in the eighth inning.