Coors Field: The Five Best Things About Colorado's Home Field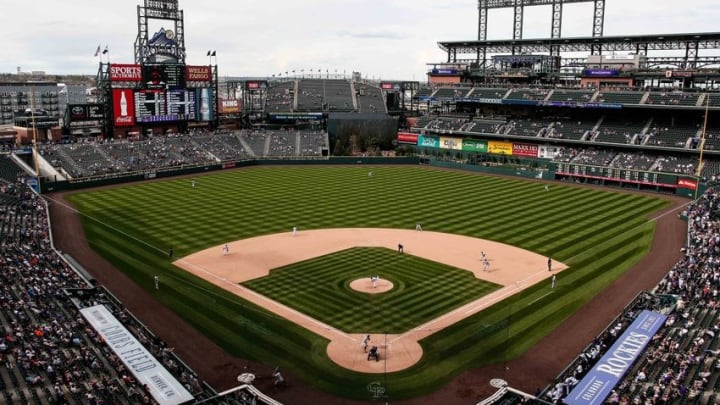 Apr 14, 2016; Denver, CO, USA; A general view of Coors Field in the ninth inning of the game between the Colorado Rockies and the San Francisco Giants. The Rockies defeated the Giants 11-6. Mandatory Credit: Isaiah J. Downing-USA TODAY Sports /
Mandatory Credit: Joe Camporeale-USA TODAY Sports /
4. The Food
Stalnaker: I don't think that Coors Field has the best ballpark food in the country, but it does have some great options, and, most importantly, you're allowed to bring your own food in. This allows me to spend half what I would inside the ballpark and still enjoy delicious baseball goodies. If you've never stopped by Joel's hot dog cart on 19th and Wynkoop before the game, you're missing out. Joel serves up traditional baseball fare for super cheap ($4 will get you a hot dog, chips, and a drink), and he's fast and friendly. He's also been down there for 20 years. So support local businesses, get cheap food, and appreciate the fact that you're allowed to carry it in with you.
More from Rox Pile
Henry: Like I said earlier, I've been to plenty of games in other stadiums throughout the country. I've had a Dodger Dog in Chavez Ravine and I've had the Gilroy Garlic Fries at AT&T Park that made me stink for three days (looking back, that was a bad, bad decision on my part). I agree with Michelle that it's great to be able to bring in your own food. You can certainly stock up on plenty of snacks from the vendors outside, and one of those frozen waters purchased outside on a hot August day sure comes in handy about the third or fourth inning of the game.
Call me a non-traditionalist, but I like to eat burgers at Coors Field, and I'm a huge fan of CHUBurger (started in Longmont so I feel like I'm supporting the locals as well). I'm also a big fan of visiting Helton's Burger Shack out in left field.
Next: Let's Talk About Our Favorite Walk-Up Music