What Bill Schmidt's comments mean for the Colorado Rockies in 2023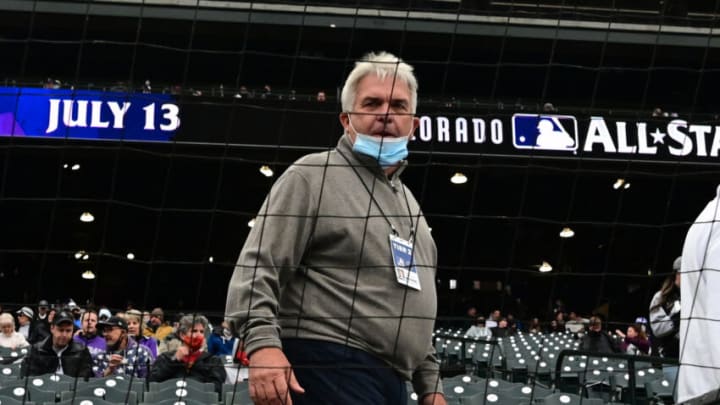 May 16, 2021; Denver, Colorado, USA; Colorado Rockies interim general manager Bill Schmidt before the game against the Cincinnati Reds at Coors Field. Mandatory Credit: Ron Chenoy-USA TODAY Sports /
Jul 17, 2022; Denver, Colorado, USA; Colorado Rockies designated hitter Kris Bryant (23) on deck in the first inning against the Pittsburgh Pirates at Coors Field. Mandatory Credit: Isaiah J. Downing-USA TODAY Sports /
"I thought he was an aircraft carrier for us," Schmidt said in regards to Kris Bryant. "Losing Bryant not only affected him, it affected the rest of the lineup."
There's some validity here. For the most part, Bryant played only in April and July. Excluding five games he played in the middle of those months, the Rockies were better in April (98 wRC+) and July (93) than their season-long wRC+ of 87. They were 12-9 in April and 13-14 in July. Overall the Rockies were 20-22 in games that Kris Bryant played in. The Rockies' worst offensive months have come in August (79 wRC+) and September (80 wRC+).
There's no denying that a healthy KB would help this team. He had a 125 wRC+ this year, on par with what he's done every season since 2018 (excluding his subpar 2020 season). However, his WAR would be either 2.1 fWAR or 1.4 bWAR had he played 150 games. That estimates his value would have been somewhere between C.J. Cron and José Iglesias, for reference.
All that's to say that Kris Bryant very obviously isn't the reason they aren't competing. They are a sub-.500 team with him in the lineup and would remain so had he been healthy. This team needs many pieces to jump into an area where they're competitive, which will require about a 20-win improvement.
And if the plan is to run it back next season (which it sounds like it is) they could potentially be without:
José Iglesias
Carlos Estévez
Alex Colomé
Chad Kuhl
José Ureña
With the biggest losses being Estévez and Iglesias, that's a good chunk of players that had considerable playing time in 2022 that will be gone. It'd point most teams towards a rebuild and opportunities for players like Ezequiel Tovar to get a full season in the majors under their belt.
But this is the Colorado Rockies. And if Schmidt's comments are telling us anything, they won't go down that road and instead just ask their players to play better because why not. So if you're wanting change in 2023, don't expect it. That's not the Rockies way.