What Bill Schmidt's comments mean for the Colorado Rockies in 2023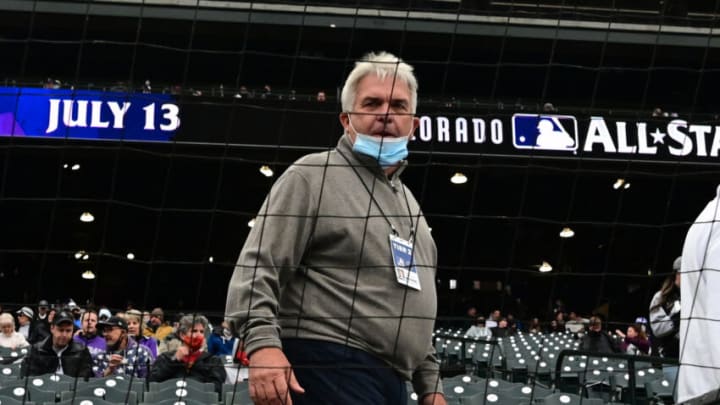 May 16, 2021; Denver, Colorado, USA; Colorado Rockies interim general manager Bill Schmidt before the game against the Cincinnati Reds at Coors Field. Mandatory Credit: Ron Chenoy-USA TODAY Sports /
SAN DIEGO, CA – AUGUST 3: Chad Kuhl #41 of the Colorado Rockies pitches during a game against the San Diego Padres August 3, 2022 at Petco Park in San Diego, California. (Photo by Kyle Cooper/Colorado Rockies/Getty Images) /
Pitching is hard enough to come by for the Colorado Rockies without drafting and developing. Chad Kuhl started well but has since regressed into a slightly worse version of who he was with the Pirates in 2021 (117 ERA-, 122 FIP-, 117 xFIP- in 2022).
José Ureña has given almost nearly identical results as Kuhl. Neither should be on this roster next season. Ryan Feltner, the only starter with a strikeout percentage above 20% (just barely, though, sitting at 20.1 percent) has been unlucky by park-adjusted stats (132 ERA-, 112 FIP-, 109 xFIP-) but results have been true according to expected stats (.349 wOBA, .347 xwOBA).
Schmidt did mention that Peter Lambert and Ryan Rolison should be viable options to go in 2023. However, Peter Lambert's time in the majors has been less than inspirational (151 ERA-, 131 FIP-, 120 xFIP-) and he has been recovering from an elbow injury.
Rolison really struggled in Triple-A in 2021 and hasn't thrown a pitch in 2022 after dealing with a shoulder strain all year. So, if Lambert and Rolison do pitch next season, there likely won't be a whole lot to expect from them.
Each of the Rockies' big three in their rotation (Freeland, Senzatela, Márquez) regressed this year also. I guess the answer is simply to pitch better instead of looking at certain warning signs, such as Márquez having his worst K/9 since his rookie season. Or seeing Senzatela being in the bottom two percent of the league with a .386 wOBA.
The rotation, which was once the most stable piece of the Rockies, is starting to fall apart and adjusting the lineup won't help cover up the holes. But, if we're reading into Schmidt's comments correctly, then nothing will happen because his plan is one of two options:
What they have on the roster is good enough to compete and they will go for it in 2023
This is a retool, not a rebuild, and they won't come out and say it in fear that they'll lose fans
The optimist in me hopes it's more of the second plan listed, but nothing we've been told publicly (or anything they've done in terms of the roster) leads me to believe they're willingly going down a retool/rebuild path. Rather, they view Kris Bryant's injuries as a major reason this team wasn't better.