Why aren't the Colorado Rockies getting trade conversations like the Pittsburgh Pirates?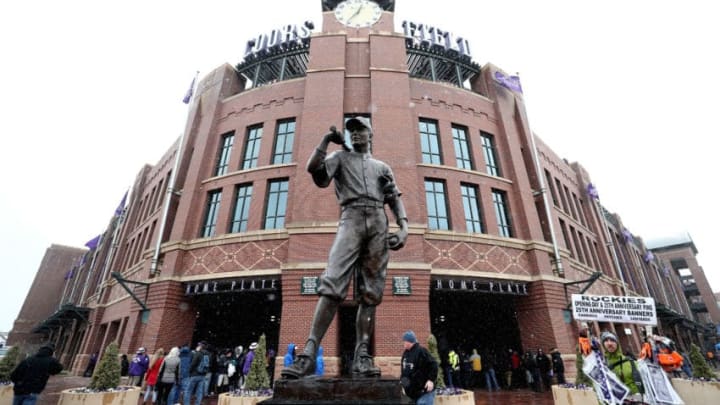 DENVER, CO - APRIL 06: Fans enter the stadium before the Colorado Rockies home opener against the Atlanta Braves at Coors Field on April 6, 2018 in Denver, Colorado. (Photo by Matthew Stockman/Getty Images) /
DENVER, CO – APRIL 2: C.J. Cron #25 of the Colorado Rockies walks off the field after the fifth inning against the Los Angeles Dodgers at Coors Field on April 2, 2021 in Denver, Colorado. (Photo by Justin Edmonds/Getty Images) /
1) The Rockies aren't having many trade conversations, if any.
Especially with the team's impending free agents, the Rockies need to be fielding calls or making calls themselves. Are the Rockies going to extend Story, Cron, Givens, or Gray? Likely not but Gray seems to be the most likely to happen. So the Rockies need to get something out of them
The Rockies front office is in shambles after the departures of Jeff Bridich, Jon Weil, and Zach Wilson, if it wasn't already, with there reportedly being zero communication in the front office and no new people coming in.
If there's fewer people to talk to and 29 teams think that they are going to be dealing with owner Dick Monfort, teams might just decide not to walk on egg shells and contact another team about a similar player and acquire him instead.
2) The Rockies are having a lot of trade conversations, like the Pittsburgh Pirates but we just aren't hearing about it.
Many other organizations like leaking things about rumors to drum up interest. "There's a mystery team that is looking to acquire Player X from Team X" is something that you don't often see with the Rockies, at least publicly.
Oftentimes, the mystery team is no team at all and teams just outbid themselves.
The Rockies have long known to be secretive with trade rumors and other team news to either try to maintain a competitive advantage or just to be secretive. Sometimes, that is great for teams and sometimes, it's not.