Colorado Rockies: What the Kevin Pillar acquisition means for the Rockies in September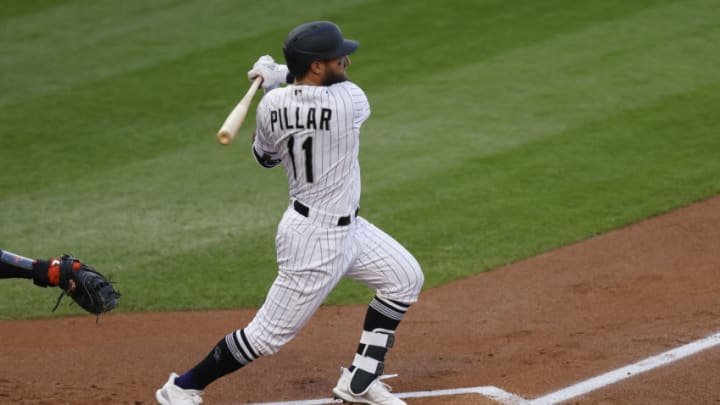 DENVER, CO - AUGUST 1: Kevin Pillar #11 of the Colorado Rockies bats during the first inning against the San Francisco Giants at Coors Field on September 1, 2020 in Denver, Colorado. (Photo by Justin Edmonds/Getty Images) /
The Colorado Rockies acquired Kevin Pillar at the trade deadline to help their outfield situation. What does his acquisition mean for the team in September?
The Colorado Rockies made somewhat of a surprising acquisition at the trade deadline by acquiring outfielder Kevin Pillar from the Boston Red Sox for a player to be named later and future considerations.
It was somewhat of a surprise considering the team's outfield depth since, the Rockies already have David Dahl, Sam Hilliard, Garrett Hampson, Raimel Tapia, Chris Owings, Yonathan Daza, and Charlie Blackmon all with MLB experience in the outfield on their 28-man roster, on the injured list, or in their 60-man player pool.
However, the Rockies outfielders have only amassed an fWAR of 1.6 in 2020, which is 18th in baseball and a wRC+ of 93, which is 22nd in baseball, so it's easy to see that the Rockies needed an upgrade there.
But the acquisition of Pillar doesn't just mean that the Rockies front office thought the outfield needed some help, it could mean two other things as well.
1. David Dahl isn't coming back in 2020 … or at least as soon as hoped
David Dahl was placed on the 10-day injured list with lower back soreness. That was on August 19 (retroactive to August 18). That was two and a half weeks ago.
When he was on the active roster, Dahl wasn't necessarily tearing the cover off of the baseball. In fact, according to Statcast, he was in the bottom 10 percent in each of these categories.
Weighted On-Base Average (wOBA): .213 (bottom one percent)
Weighted On-Base Average just from contact (wOBAcon): .251 (bottom three percent)
Hard Hit Percentage: 22.2 (bottom three percent)
xBA (expected batting average): .209 (bottom nine percent)
xwOBA (expected wOBA): .253 (bottom one percent)
xSLG (expected slugging percentage): .317 (bottom two percent)
xwOBAcon (expected wOBAcon): .311 (bottom four percent)
If/when Dahl does return in 2020, the Rockies will obviously need more production out of him. In fact, Rox Pile's Kevin Henry believes that Dahl is the key to a successful September for the Rockies.
But the Rockies could always move him to one of the corner outfield spots and either DH Charlie Blackmon or Raimel Tapia.
2. Daniel Murphy will be seeing less playing time
With the acquisition of Pillar, Garrett Hampson will likely see less playing time in center field. He saw his offensive stats drop some after he went 6-for-40 (.150 batting average) in his final 12 games of August.
However, he already has four hits, including three home runs, in two games in September thus far. With Hampson's versatility, the Rockies could easily utilize him elsewhere, namely second base. Ryan McMahon, the Rockies everyday second baseman, has seen his fair share of struggles in 2020 (particularly with striking out, as he is third in the NL with 47 strikeouts).
More from Rox Pile
He is part of the Rockies' future, though, and he is versatile as well. He can very easily play first base, as he has in the past and in limited action in 2020. Then, he would take the place of someone who will not be a part of the Rockies' future and has had plenty of his own struggles this year: Daniel Murphy.
Murphy, 35, is a free agent at season's end (if the Rockies turn down their end of a mutual option for $12 million, which they likely will) and he has not had a banner year either. His main problem is that he hasn't made much hard contact, as he is in the bottom four percent of the league with a hard hit percentage of 23.5 percent and he's in the bottom six percent of exit velocity with his 84.4 MPH average, according to Statcast.
He has nine hits in his last 53 at-bats (.170 batting average). Considering Colorado's overall offensive struggles lately and with Dahl being on the injured list, the Rockies could use Murphy in a platoon with Matt Kemp as the team's designated hitter.
Kemp has struggled at the plate himself in the last few weeks but, after all, most of the Rockies offense has.
With Pillar being a free agent at the end of the season along with Kemp, likely Murphy, and Wade Davis also coming off the books (the Rockies will definitely not exercise their end of a mutual option for $15 million), the Rockies made a low-risk move that could help pay some dividends for the team in the final month of the season and the playoffs and the move may also help the team see what they want to do in the near future.