Colorado Rockies podcast: Discussing the "Arizona or bust" theory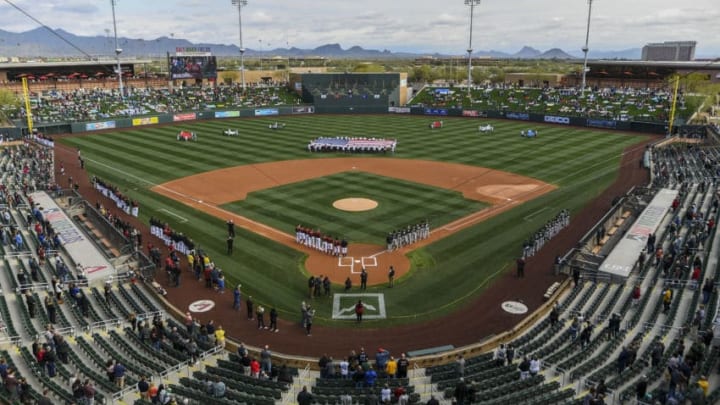 SCOTTSDALE, ARIZONA - FEBRUARY 23: An overhead view of the Oakland Athletics and Arizona Diamondbacks as they stand for the national anthem prior to the spring training game at Salt River Fields at Talking Stick on February 23, 2020 in Scottsdale, Arizona. (Photo by Jennifer Stewart/Getty Images) /
If the Colorado Rockies and the rest of the Major League Baseball teams take the field in 2020, will it be because playing in Arizona is the only option? According to one baseball insider, it is very possible.
Jeff Passan of ESPN spoke on Monday morning of Major League Baseball's plans to get the 2020 season underway. In an interview, Passan stated that, "It seems like it's going to be Arizona or bust for Major League Baseball." That means that the Colorado Rockies and the 29 other MLB teams could be starting the season all in one state and in a very close geographic area (Phoenix and the surrounding suburbs).
Now, does that mean that the teams would stay in that location for the entire season (whether that is 108 games or whatever the number of games the 2020 campaign is set to be)? That's a big consideration to think about, and Passan touched on that, believing that the season could start in "a biosphere" of safety in Arizona and then branch out to the Major League cities later in the campaign.
More from Colorado Rockies Podcast
Of course, there are a lot of variables involved with not only starting the season in Arizona but then either playing its entirety at Chase Field (home of the Arizona Diamondbacks), the surrounding spring training facilities, and potentially even some of the fields used by Arizona State University. Among those would be if MLB cities are even cleared to host games later in the summer and if fans would be allowed to end those games, in Arizona or if they return to their home ballparks.
What about the minor leagues? What about the close contact the catcher and opposing batter might have? What about simply throwing the ball back and forth from pitcher to catcher? Pickoff moves at first base where the first baseman and runner are in close contact with each other? These are just some of the questions we ponder as we talk about the "Arizona or bust" scenario in our latest Rox Pile Rockies Report podcast.
Click below to listen to our latest podcast discussing the potential of the 2020 season starting in Arizona with all 30 MLB teams present in the Valley of the Sun.