Colorado Rockies: MLB.com's YouTube game to watch for each team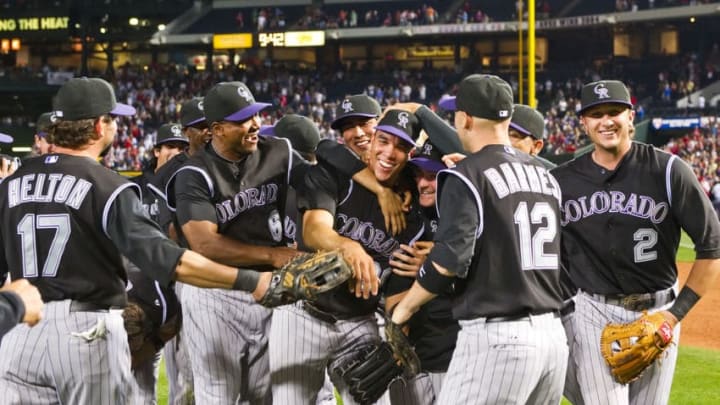 ATLANTA, GA - APRIL 17: Ubaldo Jimenez #38 of the Colorado Rockies celebrates after his no-hitter against the Atlanta Braves on April 17, 2010 at Turner Field in Atlanta, Georgia. The Rockies won 4-0. (Photo by Pouya Dianat/Atlanta Braves via Getty Images) /
With no baseball games to watch for the foreseeable future, MLB.com recently published a list of one game to watch for fans of each of the 30 MLB teams, including the Colorado Rockies.
MLB.com decided to come up with a list of one historical game for each of the 30 MLB teams, including the Colorado Rockies, that fans could watch on YouTube through either MLB's YouTube channel or the MLB Vault YouTube channel.
For the Colorado Rockies, they chose to feature the Ubaldo Jimenez no-hitter from 2010. It was on April 17, 2010, when Jimenez no-hit the Atlanta Braves on 128 pitches.
The Rockies were coming off a playoff campaign in 2009, which was their second playoff appearance in three seasons. Ubaldo Jimenez had two straight campaigns that were good entering 2010 as he had an ERA+ of 118 and 136.
He was hoping to improve even more in 2010 and in the Rockies 11th game of the 2010 season, Jimenez pitched the best game in his MLB career.
More from Rox Pile
Jimenez was a bit erratic as he walked six batters but he didn't allow a single hit or a single run to score in the game. And that was no small feat considering the lineup that he faced that day.
By OPS+ that season, the Braves were 3rd in the National League in hitting.
Jimenez ended up having a phenomenal season as he pitched to a 19-8 record with an ERA of 2.88, which was the best ERA by a Colorado Rockies starting pitcher until Kyle Freeland broke that record in 2018 with an ERA of 2.85. In 33 starts, he pitched 221 2/3 innings with an ERA+ of 161, a FIP of 3.10, and a strikeout rate that was the highest of his career up to that point.
He also became an All-Star, came in 3rd in NL Cy Young Award voting and even got some MVP votes as he came in 24th in the NL.
He dropped quickly after that and the Rockies traded him to Cleveland in 2011 when the Rockies were starting to rebuild. However, when baseball returns in 2020, there is a chance that you could see Jimenez in a Rockies uniform in an actual MLB game for the first time in nearly a decade.