Are the 2020 Colorado Rockies the second-best NL West team?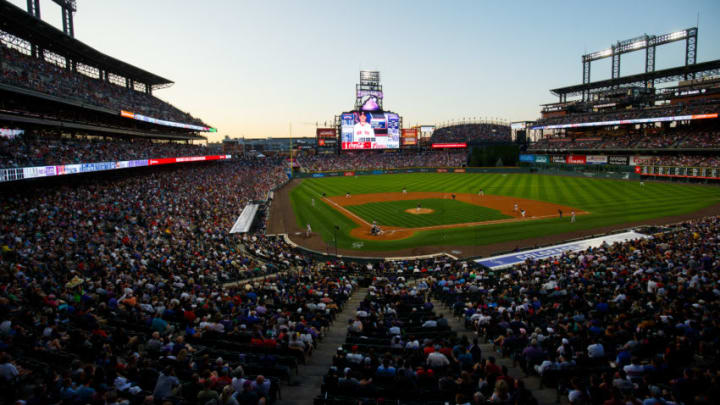 DENVER, CO - AUGUST 27: A general view of the stadium as the Boston Red Sox face the Colorado Rockies at Coors Field on August 27, 2019 in Denver, Colorado. (Photo by Justin Edmonds/Getty Images) /
DENVER, CO – JULY 15: All-Star team representatives of the Colorado Rockies (L-R) manager Bud Black #10, Trevor Story #27, Charlie Blackmon #19 and Nolan Arenado #28 stand with their jerseys before a game against the Seattle Mariners at Coors Field on July 15, 2018 in Denver, Colorado. (Photo by Dustin Bradford/Getty Images) /
The Rockies current 26-man roster based off of 2019 bWAR, as you may expect, is not good.
They only had a bWAR of 25.4 in 2019, which is less than one win per player.
Here's the breakdown :
Starting lineup: 16.3 bWAR
Bench (5 players): -2.4 bWAR
Starting rotation: 6.6 bWAR
Bullpen (8 man bullpen): 4.9 bWAR
This is the fourth best number in the NL West.
If you look at the individual players, though, it confirms the suspicion that most people that watched a single Rockies game in the last few years has noticed: They have a great core…and absolutely no secondary talent.
For the starting lineup, Nolan Arenado, Trevor Story, and Charlie Blackmon were 14.4 of that 16.3 bWAR, or 88.3 percent of it. The bench does not have a single player on it that had a bWAR that was above -0.1 (Josh Fuentes).
The starting rotation has the best two starters in the NL West in 2019, even with injuries that sidelined them for 5-10 starts each in Jon Gray and German Marquez.
I also don't necessarily think that the Rockies roster will look like this.
Position player wise, I personally think that Brendan Rodgers (-0.8 bWAR), if healthy, and Yonathan Daza (-0.8 bWAR) will be on the roster over Fuentes (-0.1 bWAR) and Sam Hilliard (0.6 bWAR). Also, if Elias Diaz (-1.3 bWAR) makes the team as backup catcher over Drew Butera (-0.4 bWAR), it would bring it down even more.
For Hilliard being left off, Rox Pile's Aaron Hurt discussed why this may happen in this article recently.
On the pitching front, I think Chi Chi Gonzalez (0.6 bWAR) makes the team over James Pazos (0.5 bWAR). That would change the numbers for the rotation (where I think Gonzalez would be) and the bullpen, where either Hoffman or Senzatela would be.
If all of those changes happened, it would bring the 2019 bWAR from 25.4 to 23.9.
If you're of the belief that the Rockies are not this bad and closer to the 2017 or 2018 Rockies, which is a valid belief and a belief that I think is probably the case, let's look at those teams.