Matt Herges Talks 2007 World Series, Pitching at Coors Field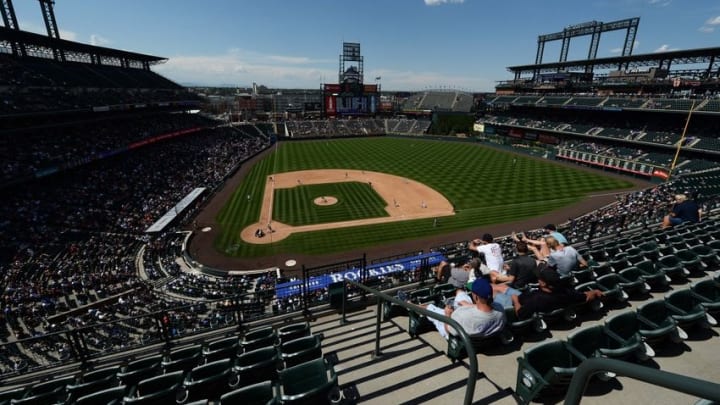 Aug 17, 2016; Denver, CO, USA; General view of Coors Field during the fourth inning of the game between the against the Washington Nationals against the Colorado Rockies. Mandatory Credit: Ron Chenoy-USA TODAY Sports /
Aug 17, 2016; Denver, CO, USA; General view of Coors Field during the fourth inning of the game between the against the Washington Nationals against the Colorado Rockies. Mandatory Credit: Ron Chenoy-USA TODAY Sports /
Matt Herges sat in the home dugout at Chickasaw Bricktown Ballpark in downtown Oklahoma City, staying cool in the shade during a warm August evening on the Southern Plains.
He looked out on the field as the Albuquerque Isotopes, the Triple-A affiliate of the Colorado Rockies, began to stretch and get ready for their contest against the Oklahoma City Dodgers. As the pitching coach for the Triple-A Dodgers, Herges had prepared his scouting report against the next generation of Rockies.
Tonight though, Herges is ready to reflect back upon a group of Rockies who made magic happen nearly a decade ago in LoDo.
At the age of 37, Herges was a part of the 2007 Rockies that advanced to the franchise's only World Series. He went 5-1 that season with a 2.96 ERA in 35 games. In seven postseason games for the Rockies that season, he didn't allow a run and allowed just two hits in seven innings.
Herges appeared in three World Series games against Boston, striking out four in 3.1 innings of work.
More from Rox Pile
During our chat, we talked about a range of topics from pitching at altitude to what made that 2007 team so special.
KH: What do you remember most about that 2007 season?
Herges: "It was one of those teams that it would be hard duplicating putting a team together like that again with the character the team had, up and down. The Rockies believed that the clubhouse wins games and character is more important than talent. We had talent, but the overwhelming factor was the character of that team.
"We had a rookie (Troy Tulowitzki) who was our leader of that team. When does that happen? We had a super veteran (Todd Helton) who led by how he went about his business. We had a superstar in Matt Holliday who was a superstar and never got the memo. We also had the complementary pieces. We had a great bullpen. Our defense that year tied the Major League record in fielding percentage. We had a great leader in Clint Hurdle.
"It can happen, but there's a lot of luck that has to happen. Ultimately, the people putting the team together have to be diligent about who they bring in. That's what Dan (O'Dowd) did. They weren't going to just bring in anybody. A guy might have great production but he might not fit in that clubhouse. They put together a few clowns like me and it just happened to click. Winning 21 of 22 games and we couldn't do it any different way than we did it."
More from Colorado Rockies History
KH: Talk about that amazing streak
Herges: "It got to the point where, the Rockies had been bad for a while, and it took probably 12 games into that streak where the mindset completely changed. It's hard to believe you can be good. It's hard to believe you can win and go all the way. It really is. It's not a curse but it takes almost something supernatural to change that mindset.
"After those 12 games, we expected to win. The streak was unbelievable but we expected to win every night. The starters were giving us great games. The bullpen was lights out. The defense was unbelievable. We grew together as a team. We loved each other. Sure, there were spats like every team, but there was no selfishness. We were involved in something that was so great and it wasn't because of you or you. It was because of everybody. The 25th man on the roster was a huge contributor.
"For me, in that play-in game (against San Diego), the hero wasn't Jamey Carroll or Seth Smith or Matt Holliday. It was Ramon Ortiz. He came in after we gave up the homer to Scott Hairston and he shut down the rest of the inning. It could've snowballed and we would've been done but he came in and shut it down and the next inning is when the magic happened.
"The fan base in Denver is unbelievable. It's a Broncos town but they love the Rockies. They're knowledgeable. The way they came out in '07, I hoped it stays like this forever because that was special. They totally bought in."
Next: Herges Has an Opinion on How to Pitch at Altitude