What Bill Schmidt's comments mean for the Colorado Rockies in 2023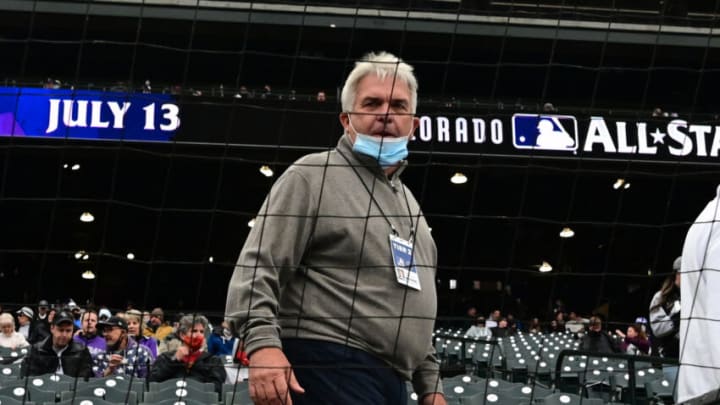 May 16, 2021; Denver, Colorado, USA; Colorado Rockies interim general manager Bill Schmidt before the game against the Cincinnati Reds at Coors Field. Mandatory Credit: Ron Chenoy-USA TODAY Sports /
Sep 17, 2022; Chicago, Illinois, USA; Colorado Rockies designated hitter Charlie Blackmon (19) is congratulated in the dugout after scoring a run against the Chicago Cubs during the ninth inning at Wrigley Field. Mandatory Credit: Jon Durr-USA TODAY Sports /
In terms of situational hitting, it's questionable whether Schmidt has actually looked at the stats. As our own Noah Yingling pointed out over the weekend, the Rockies actually hit better with runners in scoring position than with no one on. Their full season wRC+ is 87. Their wRC+ with no one on is 83 and with RISP their wRC+ is 96. They followed a similar pattern last season.
The bigger problem here is that each of those numbers is below league average, but who am I to judge a team that hasn't had a wRC+ above 90 since 2016? Part of that is because of their well-known struggles on the road (with many factors out of their control), but I'm more worried about how Schmidt thinks the Rockies can fix things on the road.
"We have to play the game better than we do, and that really comes back to situational hitting. That means getting on base, getting the guy over and getting the guy in."
What Schmidt's describing here is simply known as playing baseball. So, by "situational hitting" I can only assume that he means their hitting in general needs to improve.
This brings us back to an even more worrisome point that's been a continuous thought since Bridich's tenure at GM, which is that the Rockies just need to play better. The problem is that you simply can't do that when your roster isn't good. And nothing about the current roster points towards major improvement next season.
By expected statistics, the Rockies have been a touch lucky on offense (.314 wOBA and .303 xwOBA) and a touch unlucky with pitching (.342 wOBA and .332 xwOBA). Neither of those gaps point towards an incredible jump in production, specifically from the pitching side. And based on prior years, there's more of a correlation with the Rockies when it comes to better pitching as the hitting as been pretty much the same from year to year: