Colorado Rockies prospects: Zac Veen on learning curves, getting better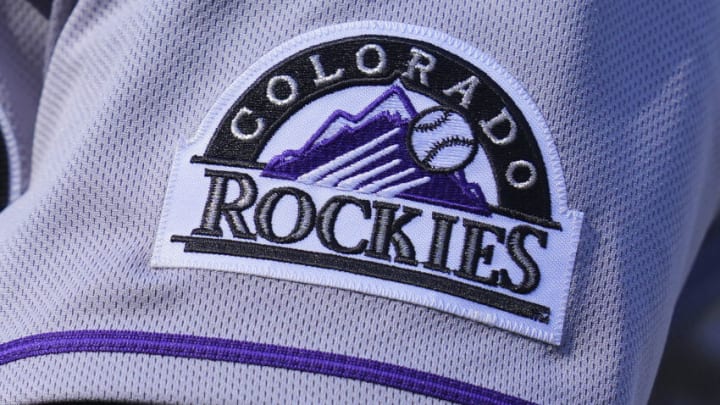 PHILADELPHIA, PA - APRIL 28: A general view of the Colorado Rockies logo against the Philadelphia Phillies at Citizens Bank Park on April 28, 2022 in Philadelphia, Pennsylvania. The Phillies defeated the Rockies 7-1. (Photo by Mitchell Leff/Getty Images) /
EUGENE, Ore. — The rain is falling as the Spokane Indians and Eugene Emeralds go through their gameday workouts before finishing up a series pitting the teams with the two best records in the Northwest League. While the clouds and rain give a gloomy vibe to the surroundings on the University of Oregon campus, there is not much that the conditions can do to knock the smile off the face of Colorado Rockies top prospect Zac Veen.
The 20-year-old Veen is working his way through his first season with High-A Spokane after a season where he established himself as a force with the Low-A Fresno Grizzlies. That included hitting for his first cycle as a member of the Colorado Rockies franchise as part of a season where he slashed .301/.399/.501 with 15 home runs, 75 RBI, and 36 stolen bases, mixing power and speed together as weapons.
Veen flashed those same skills on Sunday in Eugene, with his bloop RBI single into center field plating Braiden Ward and giving Spokane its first hit and run of the day in the fourth inning. Two pitches later, Veen stole second. Four pitches later, he swiped third. Three pitches after that, on an errant throw back to the pitcher from the catcher, Veen darted home, sliding safely across the plate, flashing a smile and sticking out his tongue toward the Spokane dugout.
He's having fun, and he's improving as a baseball player he believes, with a focus for taking what he learned last season in Fresno and building upon it in the Pacific Northwest.
"We have a good team, and we have a good group of guys who enjoy playing together," Veen said of a core group of players that all moved up to Spokane together for the 2022 campaign. "I think we all know each other's strengths and weaknesses after playing last year in Fresno and being in Spokane this season."
For Veen, it's about building upon last season's numbers and lowering the ones where he believes improvement can be shown, including being thrown out a league-high 17 times when trying to steal a base and striking out 126 times.
"It's about continuing to learn," Veen said. "I'm focusing right now on controlling what I can control. I'm trying to be where my feet are every day and enjoy every day the best that I can."
Veen admits that there was a learning curve to his first professional season, saying, "Going from 20 high school games in a year to more than 100 was definitely a big jump."
This season, that jump has included facing what Veen calls "more experienced pitchers" and he's still working to replicate the numbers from last season, slashing .257/.368/.399 with five home runs and 29 RBI through his first 51 games. However, he's confident in the process and his abilities adapt and grow during his journey through minor league baseball.
As we wind down our interview, the rain starts to lighten up and Veen's smile lights up the area again as I ask him about the recent bobbleheads giveaway in Fresno that featured his likeness.
"That was very cool," Veen beamed of his first-ever bobblehead that became a hot ticket item in Fresno. "It was definitely a cool day and a cool experience."
It was just one of many cool experiences for Veen already in his journey toward what he and Rockies fans hope will be a long tenure as a face of the franchise.